Video: Bluegrass Sessions @ Skyline Stage 9/15/1999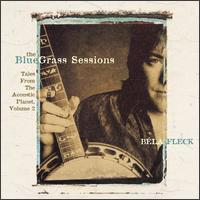 How do you top one of the greatest acoustic albums of all time (Bela Fleck's Tales From The Acoustic Planet)?  Bela kept the all-star lineup, but went straight bluegrass for the follow up to his 1995 acoustic jazz masterpiece.
First, Fleck grabbed Sam Bush, Tony Rice, Jerry Douglas, Stuart Duncan, Vassar Clements and more to round out an album of fun originals and off-the-wall covers that may not live up the ground breaking sounds of Volume One, but are extremely satisfying nonetheless.
Then, he took that band on tour.  Regrettably, Rice couldn't make it on the road, but was ably replaced by Bryan Sutton.
It's the type of super jam that de rigeur for Telluride in June, but in Chicago in September it's kind of a big deal.  In fact, we've been waiting 16 years for a repeat.
Until that day comes again, let's throw it back to these two nice segments of video, totalling over 50 minutes, captured by YouTuber Kimock7.