Video | Medeski, Oteil, KarlD & Kraz Anchor Throwback Jam @ Bonnaroo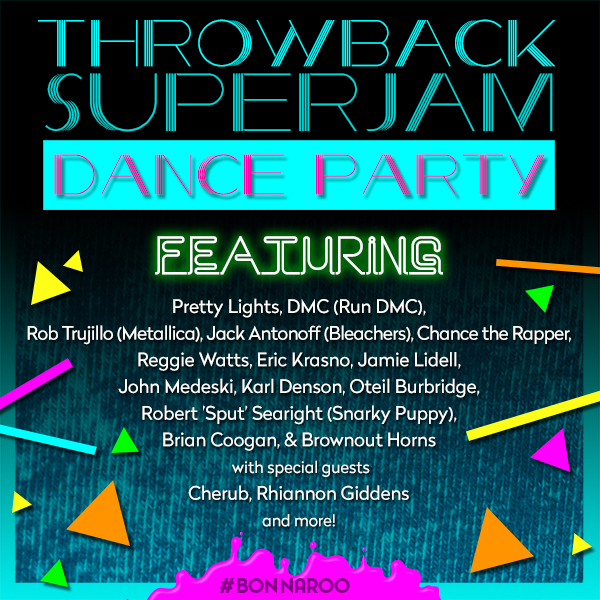 We've come a long way since the 2002 Bonnaroo Superjam, which was essentially an expanded String Cheese Incident & Friends set.
In 2015, Hollywood actors open the festivities with an a capalla "We Are The World", and stars from all over the popular music spectrum drop in for a cameo.  But one thing stays the same, the presence of jamband royalty to hold down the musical proceedings.
Look beyond the MCs and featured singers and you'll see a backing band with Jon Medeski on organ, Oteil Burbridge on bass, Karl Denson leading the horn section and Eric Krasno absolutely shredding on tunes as diverse as "Enter Sandman" and "The Way You Make Me Feel'.  The theme of this year's jam was the Throwback Dance Party and it's a good thing that these guys were around -- as many of the featured performers probably were just toddlers when most of these songs were popular.  The full set is captured in this pro-shot video uploaded by altapowskier.
Check out the full setlist and featured players below (plus for throwback's sake, the stream of that inaugural SuperJam as well).
Bonnaroo 2015's Superjam, the 80's throwback edition, featuring the talents of: Pretty Lights' Derek Vincent Smith, Run DMC's DMC, Jurassic 5's Chali2na, Metallica's Rob Trujillo, Bleachers' Jack Antonoff, Chance The Rapper, Reggie Watts, Eric Krasno, Jamie Lidell, John Medeski, Karl Denson, Oteil Burbridge, Robert Searight, Brian Coogan, the Brownout Horns, Rhiannon Giddens, and Cherub.
The 2002 Super Jam:
Personnel:
Entire set with Michael Kang (violin and electric mandolin), Bela Fleck
(electric synth-banjo), Jeff Raines (acoustic guitar), and Robert Randolph
(pedal steel guitar)
(1) - with Danyel Morgan (bass), Bill Nershi (acoustic guitar), Stanton Moore
(drums), and Edgar Meyer (acoustic bass)
(2) - with Keith Moseley (bass), Kyle Hollingsworth (keyboards), DJ Logic
(turntables), Bill Nershi, Stanton Moore, and Edgar Meyer
(3) - with Danyel Morgan, Kyle Hollingsworth, Bill Nershi, DJ Logic, Stanton
Moore, and Edgar Meyer
(4) - with Rich Vogel (keyboards), Robert Mercurio (bass), Bill Nershi, DJ
Logic, Stanton Moore, and Edgar Meyer
(5) - with Keith Moseley, Rich Vogel, Bill Nershi, and Stanton Moore
(6) - with Michael Travis (drums), Kyle Hollingsworth, Keith Moseley, DJ Logic,
and Bill Nershi
(7) - with Marcus Randolph (drums), Kyle Hollingsworth, and Danyel Morgan