Video Playlist: Punch Brothers @ The Vic 12/13/12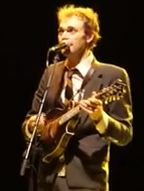 Here are twelve fine looking and sounding videos from an exceptional night of music with Punch Brothers at The Vic in December.  Seeing is believing -- and if you have any appetite for acoustic music and are not completely won over by this quintet... just quit music now.  Kicking off with a Cars cover that at first belies the heft of this group and then enforces it -- the band ably swings over sorts of ground in a dizzying display of technique and songcraft . For the finale, this videographer has given us two tunes which feature the band with members of Milk Carton Kids, followed by mandolinist / bandleader / genius Chris Thile taking the stage solo (amdist a charming chorus of audience shushes) to perform a classical piece.
This is nearly an hour of performance that awakens the spirit and nourishes the soul.  Queue it up and let it rip...
Playlist Contains:  Just What I Needed, Dark Days, Hundred Dollars, Movement & Location, The Blind Leading The Blind: Movement III, You Are, Patchwork Girlfriend, This Girl, Rye Whiskey, Make Me A Pallet On Your Floor*, Sled Riding*, Presto from Sonata No. 1 In G Minor

*with the Milk Carton Kids