VIDEO: Watch Jack White's Final Acoustic Concert In Full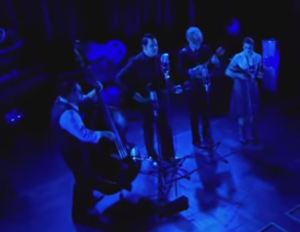 On Sunday, Jack White performed his final concert before taking an indefinite hiatus from touring. The final show of his all-acoustic tour, which took place in the five states he had yet to perform, occurred in Fargo, North Dakota.
The 14-song set streamed through TIDAL, of which Jack White is a partial owner, and featured selections from his solo catalog as well as White Stripes songs, a Raconteurs track and a Leadbelly cover.
Performing entirely acoustic with little amplification beneath blue lighting, Jack White remains as energetic as ever, addressing the crowd often between songs.
The intimate performance has since shown up on YouTube. Stream the entire show below.