Watch Parquet Courts Debut Two New Songs On Radio Sessions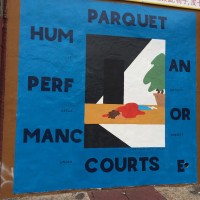 Parquet Courts mural
Parquet Courts performed two new songs on Fordham University's WFUV radio station in New York City. The songs, "Dust" and "Outside," find the band continuing to pursue the post-punk sound of 2014's excellent Sunbathing Animal.
"Dust" features a jagged, upbeat guitar line that fans would expect from the band, clean-toned and never slowing down. Literally about dust, the track features the hook, "Dust is everywhere, sweep" and a section of piercing guitar feedback.
I have to say, I've never heard a song written so well about dust.
"Outside" is an especially melodic song for the band, leaning away from punk and toward alternative-rock. Again, the track is predictably catchy and upbeat.
Photos have been circulating of a recently painted mural in Brooklyn displaying what appears to be the cover to the band's next album, titled Human Performance. If these two songs are our introduction to the new album's sound, the band certainly seems to be creating a worthy follow-up to Sunbathing Animal.
Update (2/4): Parquet Courts confirmed the release of Human Performance, out on April 8.
Listen to the new songs below.
"Dust"
"Outside"