Watch Tom Waits Perform New Song "Take One Last Look" On Letterman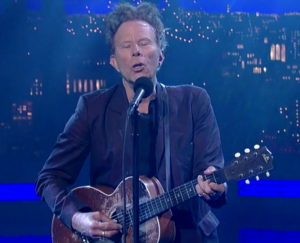 Tom Waits appeared on last night's episode of "Late Show With David Letterman," performing a new song titled "Take One Last Look," an appropriate nod to Letterman's last week as host.
The soft song primarily features accordion and upright bass accompanying Waits on acoustic guitar, with horns entering toward its end.
"Take one last look at the place that you are leaving," he sings solemnly.
Waits was also interviewed by Letterman, the humorous discussion ranging from salad lines to antiperspirant to Waits' earlier days on the show, George Clooney handcuffed to Letterman for the show's duration.
"It's amazing how nice folks are to you when they know you're going away," Waits joked.
Waits and Letterman have a longstanding relationship dating back to Waits' first appearance on the show in 1983. Waits was amongst the only performers to be interviewed following each musical performance on the show.
"I don't know when I will see Dave again. I guess from now on we'll have to settle for bumping into each other at pilates," Waits posted on his website.
Watch the performance and the interview below.
"Take One Last Look":

Interview: