Weekend In Review | Greensky Bluegrass @ Bell's Beer Garden 2015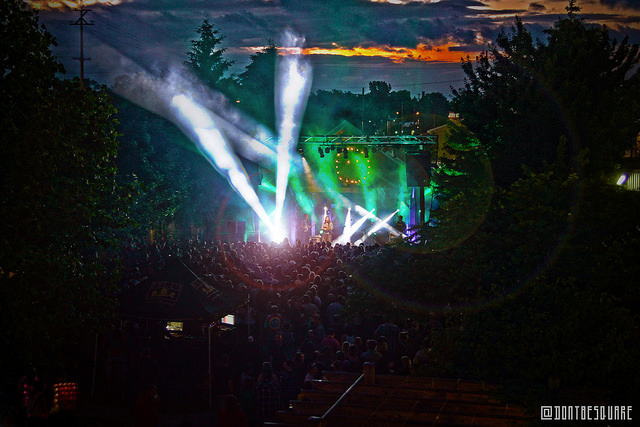 There was a time -- when I'd first started hearing about Greensky Bluegrass but before I'd actually heard their music -- that I just assumed they were from Colorado. The Rocky Mountain state is ground zero for a certain flavor of jam grass that leans heavily on toying with form and healthy improvisation that, on the surface, can describe Greensky Bluegrass -- the band certainly owes a debt to Colorado bands, but ends up transcending them in just about every way.
When you settle in with their music, it becomes clearer: while Greensky borrows a slice of the aesthetic from high energy picking parties and 420-fueled mayhem of Western bluegrass, and for that matter, from traditional and other progressive bands, there is something very Midwestern at its core.  Our friend Jeff, who grew up near Kalamazoo calls it a "Michigan melancholy" -- acoustic music that evokes a region kicked around by fleeing industry and long, brutal winters, yet still bends towards art, hope, community and regional pride.
It's part of the reason we've had such an affinity for them on this Chicago-based site. Sure, they're everybody's band now, with enthusiastic fans from coast to coast, but establishing yourself nationally out of Kalamazoo, Michigan is no small feat.  There is no industry apparatus in K-zoo, no benefactor ready to pluck you from obscurity into stardom.  It takes practice, craftsmanship, dedication and hard work.  How very Michigan.
These are interesting times for Greensky Bluegrass.  3/5 of the band now actually calls Colorado its home. They came off a spring tour which saw them sell out three nights at the Boulder Theater as well as play an epic show with Phil Lesh at Terrapin Crossroads in California. When scheduling snafus nixed their set from the Dear Jerry Tribute concert, the outpouring of support from fans nearly eclipsed the actual music made in Maryland that night.
So, on a weekend when they could be grabbing the fat festival dollars from Wakarusa or Mountain Jam, they came "home" to honor a tradition 11 years in the making: the opening of the Bell's Beer Garden.  While their annual Bell's Back Room gig for Thanksgiving got moved to the roomier State Theater last year, the band booked themselves for another three nighted in the place that started it all.
And it's not just that they did it -- it's how they did it.
Taken as a whole, the run took on the feel of a New Year's Eve or holiday extravanganza, with the ever-more-familial fan base assembling from all corners of the country into Western Michigan.  And the band decided to give both the Michigan faithful and newcomers plenty of reason to feel good about circling the date on their calendar, throwing down three unique shows that oozed with personality and inventiveness, practically telling the story of Greensky Bluegrass.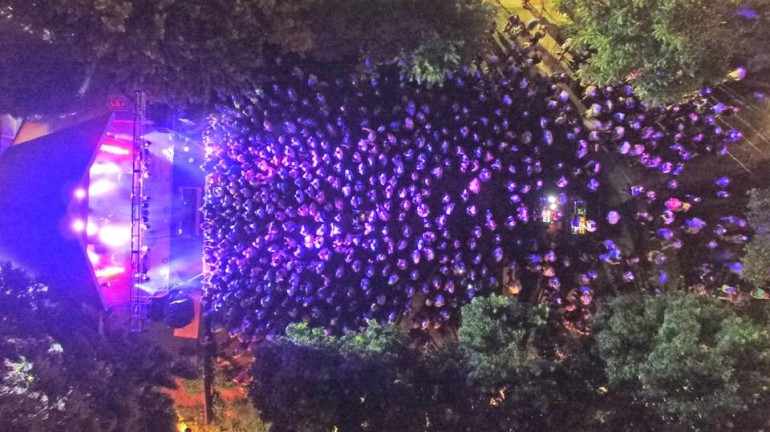 A glance at the set lists revealed that the most distinguishing characteristic was a reliance on covers -- both old & rare and new & exciting -- to round out many of the six sets performed.
From Thursday's slinky, funk jam into "When Doves Cry" to Friday's prog-grass "Land Of Confusion" to the Paul Simon dance party that closed the final set on Saturday, every day found another reason to celebrate their influences.
It's a little funny when bands feel the need to step out of shadow of jambands that came before them.  But Greensky is confident enough in their songwriting to throw themselves headlong into their heroes' songbooks. What started as "The Other One" teases in Saturday's show matured into a full-on "Other One Jam", made ever the more delightful in bluegrass mode, and the ensuing the transition into "Eat My Dust" was amazing.  "Kerosene" contained the full riff from "Let It Grow", as it has in many recent versions.  Meanwhile, the band made a few more ovations to Jerry Garcia, locking in on covers that he famously played in the JGB, Bob Dylan's "Señor" and Peter Tosh's "Stop That Train", and the Old & In The Way classic  "Pig In A Pen".
While touring so heavily behind last fall's If Sorrows Swim, many of their more recent gigs tended to show off the goods, trying to put that material in the ears of their audience. The Bell's gigs seemed to tweak the formula, to the benefit of each show's flow.  It turns out, they still managed to play every song on the album over the course of the three days but it never felt forced. On the contrary, when the band trotted out ISS standout "Windshield", the crowd was eager and appreciative, the sing-a-long was loud and enthusiastic.  That sort of respect for the original material, paired with the covers noted above, and plenty of others, played a key role in keeping a nice balance.
They also managed the -- much appreciated but certainly not expected -- feat of completing the run with no repeats.  This means a reach back into the band's amazing catalog of original tunes. "Fredrico" poked its head into the encore slot on Friday, originally debuted with the Phoffman trio back in April, it seems destined to become a Greensky song.  "Fer Sure Uh Huh" kicked off the party reggae-grass style, while "Middle Mountain Towns" washed over Saturday's crowd.  There was plenty here for the hardcore fan, and that is something they'll have to cultivate as they hit the road hard.
There was also a carved out showcase each day for special guests  The openers on this run weren't tacked on by the promoter; they weren't part of any scheme to sell tickets.
Their selection felt curated. The clear link was Michigan, and for this homecoming, that was only appropriate. The band has an obvious affection for each: the Appleseed Collective and Billy Strings & Don Julin providing a true roots experience, though their appearances couldn't have been more contrasted.  Appleseed Collective helped Greensky slay a run-opening cover of Alice Cooper's "School's Out", while Billy & Don ran through a series of more traditional standards.
Joshua Davis, who appeared with his trio, is probably known to millions of more Americans than his hosts due to his long run on NBC's The Voice.  The band joked during his introduction, "He's a singer now.... I always thought he was a songwriter" before diving into an accordion fueled take on Davis' "Delta 88".
Each night, of course, had it's jamming showstoppers. "Lose My Way" and "Train Junkie" lent some meat to Thursday's first set, while "Leap Year" sealed the deal in the second.  Jams in "Last Winter in Copper Country" and the always excellent "Don't Lie" punctuated Friday's affair.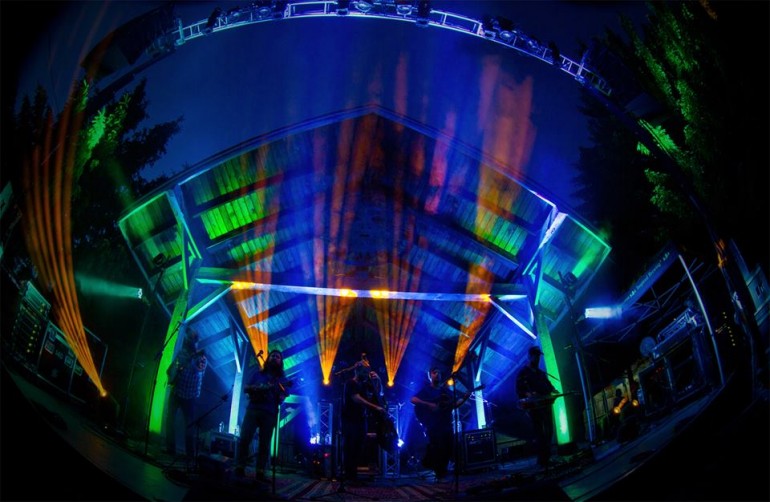 Saturday night had a few proto-jams, and each was offered in an excellent space.  "Bring Out Your Dead" was an eerie, evocative set opener that contains some of the darker Bruzza-style of improv, while Traveling Wilburys' "Handle With Care" showed breakout potential, despite some lyrical miscues.  But no one will every decry "All Four", especially at Bell's where its namesake brew is on tap for the weekend and it hits the 20 minute mark, or "Broke Mountain Breakdown", which contained a full on workout on The Beatles' "Glass Onion".
These days, the music industry has shifted such that bands don't go on a summer tour so much as hop around from festival to festival.  With that on tap for the next few months, fans can savor this series of special shows in a special place.
As Greensky Bluegrass moves across the country, touching down from tent city to tent city, winning new fans, they won't have all the opportunities afforded to them with the crew assembled in Kalamazoo.  Sure, they'll make some stops in Telluride and Aspen, but it turns out that wherever they go, they'll be bringing The Mitten with them.  It was great, if only for awhile, to have them back and totally prepared to deliver.
Check out the full set lists and audio (+ some video) from each show:
Thursday June 4, 2015
Friday June 5, 2015
Saturday June 6, 2015
Photos: Eric Fischer & Greenksy Bluegrass Facebook.
Additional Reporting: Matt Fricks & @WeirScrewed