Weekend With Umphrey's McGee | A Midwest Adventure
Words: Ryan Mannix | Photos: Brian Lirot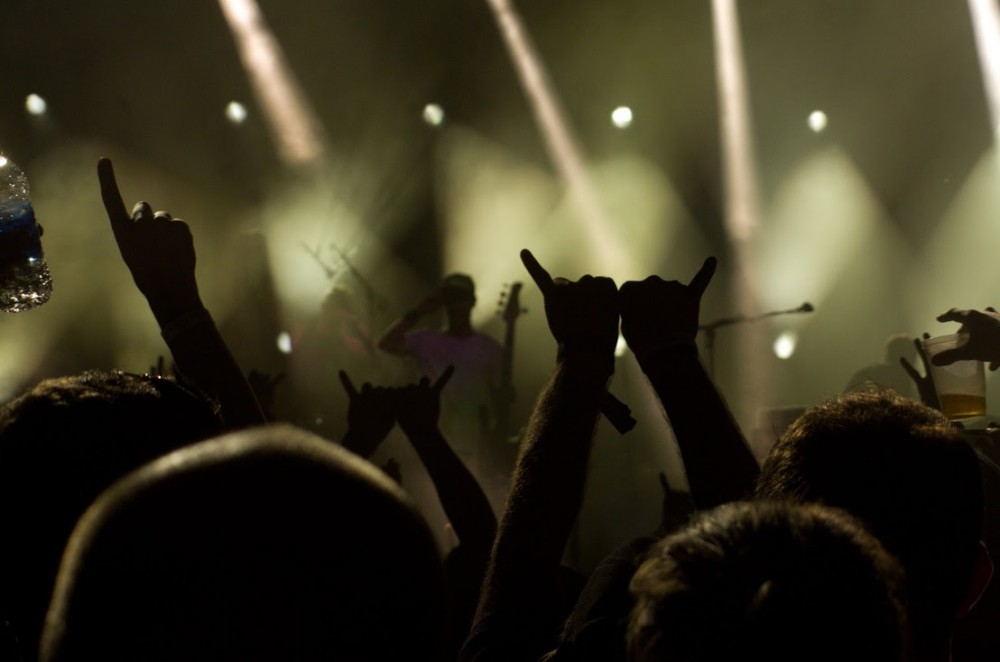 In certain circles, you might hear the (half) tongue-in-cheek lament, that "Umphrey's hates Chicago."
While it's true that the band's appearances in the city limits have slowed to a trickle (a festival appearance and instant-sell-out club date are on the menu for Labor Day weekend), could it also be true that band's continued struggle to find a perfect venue fit at this stage in their career represents a unique opportunity for fans in what once was UM's undisputed home base?
Certainly it's the case during the road heavy fall and spring, when huge Halloween runs have taken place at the very driveable and fan-friendly Riverside Theater in Milwaukee, and appealing multi-night stops seem to crop up in nearby cities.  Three days in late spring at Summer Camp Music Festival always gets the herd migrating.
But what about the summer?  The relaxed pace and warm weather has invited music fans to hit the road in search of jams for decades.  With massive ampitheater tours and festivals large and small competing for live music mindshare, how would Umphrey's McGee choose to continue their trajectory?
In summer 2016, they answered the call with a run of shows through the Midwest.  I was fortunate to catch three of these -- from Peoria to Louisville -- and the performance, and the setup just might be the proof that Umphrey's loves Chicago, even if it's hard to catch a show there.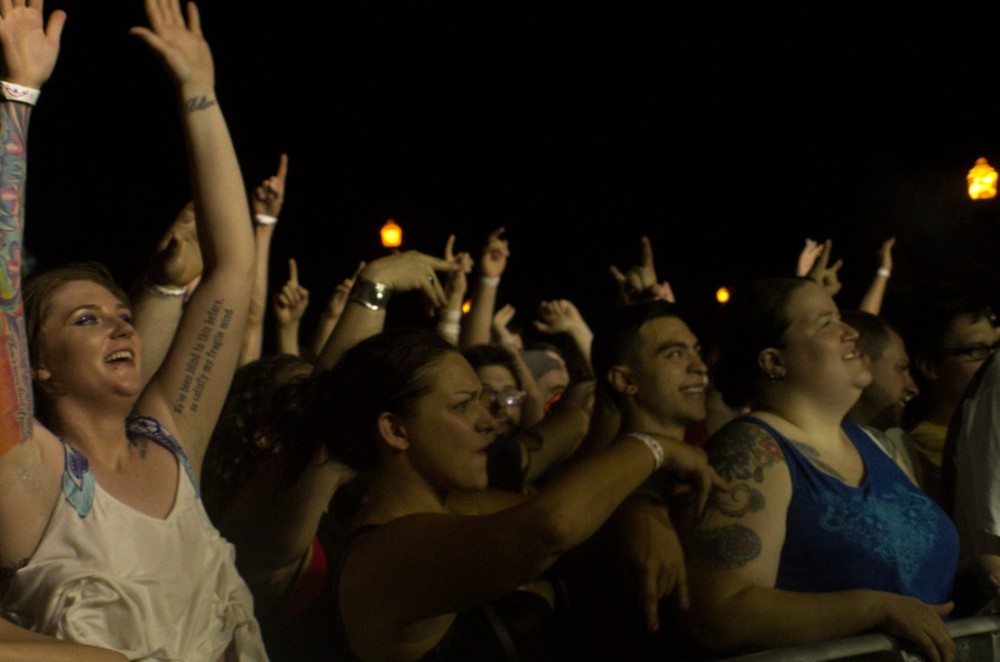 "These guys are weird.  I've never seen anything like this."
Those were the words of a older fan in the crowd after the first gig of my run.  It applies, interestingly enough, to both the music and the setup.
Several hours prior, as I crossed the bridge into Peoria, I noticed that we had practically drove directly over the stage. While Peoria may not scream "big time", putting a venue directly next to the river -- with the combination of hippies, families and vendors producing an almost carnival like atmosphere -- is actually quite an inspired choice.
It's a mid-size city where a traveler might choose to set up camp within a friendly distance of the ampitheater (we did).
So how do you start a show like that?  How about with "The Message", a Grandmaster Flash cover and fun rarity with Jake on keys?  
Weird?  Even hardest core of Umphreaks were left scratching their (hugely smiling) heads during the segment of "Eat" > "Orfeo" > "Eat" > "In A Silent Way" -- each of those tunes hadn't been played for over 100 shows.
"Push The Pig" uncovered some of Kris Myers' hip hop inspired grooves and smoothly fell into "Resolution", the real improvisational standout of the first set, complete with two distinct sections.  The first was an epic rock peak lead by Jake with some great interplay by Stasik that could have gone longer, but instead dropped back into the second half of the tune.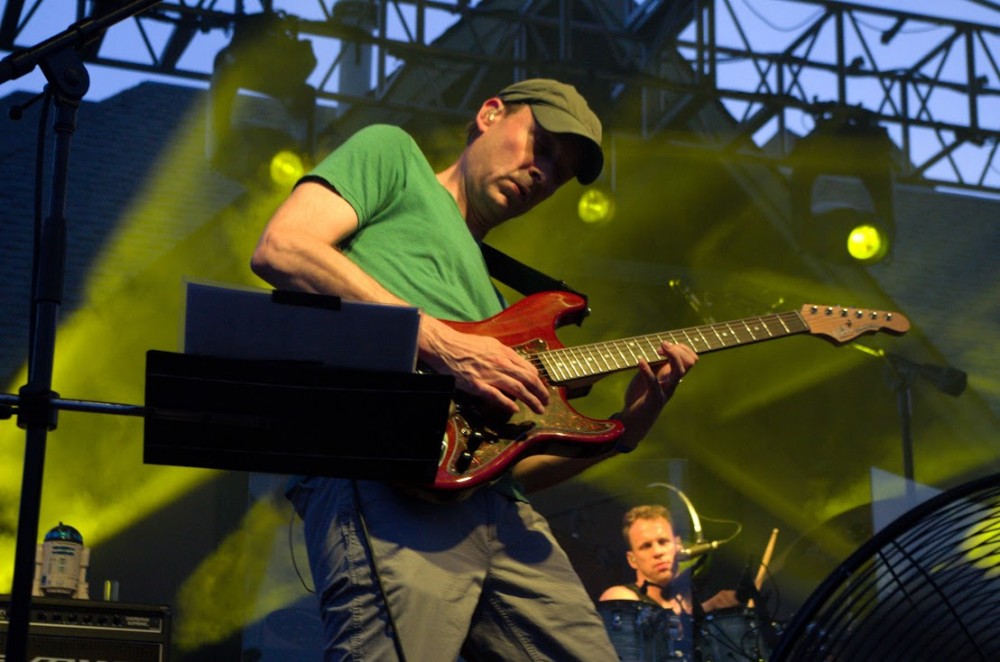 "I'm as dry as Albuquerque in June," Brendan Bayliss declared, fitting words for the muggy night, especially for those of us tightly packed near the stage.  He led the way through the second jam,  beautiful and melodic.  
Over the course of three nights, I'd hoped "Der Bluten Kat" would make an appearance, and it came to open the second set of the very first show.  One of the most technically challenging tunes in an arsenal full of them, the tune is broken up into multiple parts with improvisation in between.  This version featured a "Kula" sandwich and some cool stop/start style jamming.  After a solid 30 minutes of face melting, the guys took a little time to start another crowd favorite, "Ringo", featuring more interactive playing from Stasik and Jake amidst a smattering of "Voodoo Child" teases.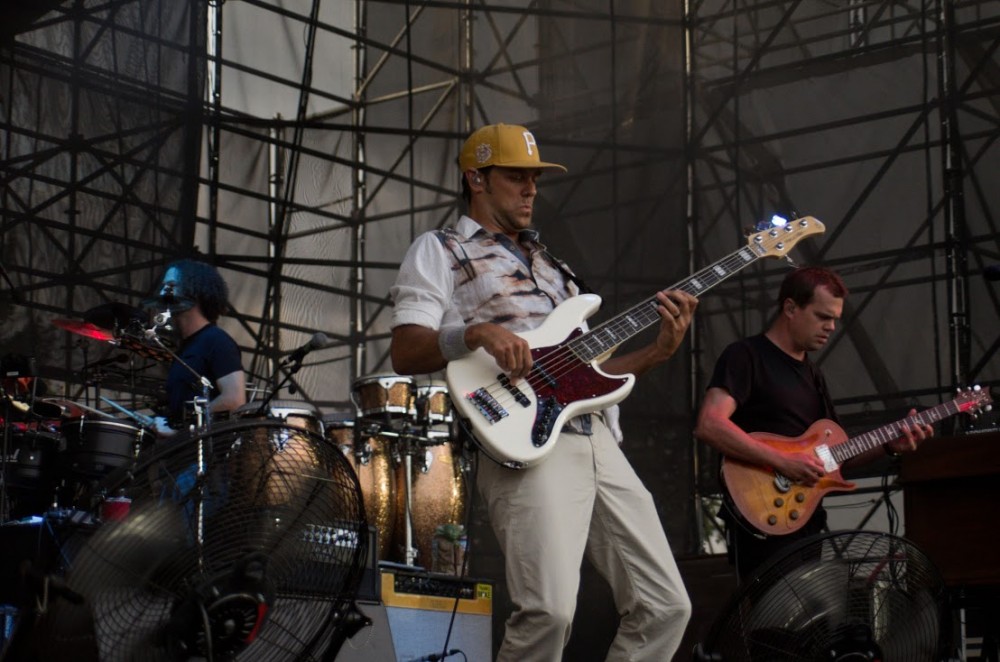 The set ended a combination of "Kabump" > "Make It Right", the former being one of the last of the tunes that I'd been "chasing", the latter one of my favorite newer songs, smartly slotted into a set closer role ususally reserved for the old war horses.  "Hooray For Tour" when the band can continually keep us addicts on our toes.
Not many jambands could pull off Fugazi's "Waiting Room" as an encore but Umph has always leaned more aggressively than your typical jamband.  A high energy, but succinct "Mulche's Oddesey" brought the night to a close.  All together weird?  Sure, but entirely welcome.
Peoria Hightlghts:  "Resolution", "Waiting Room"
MVP: Stasik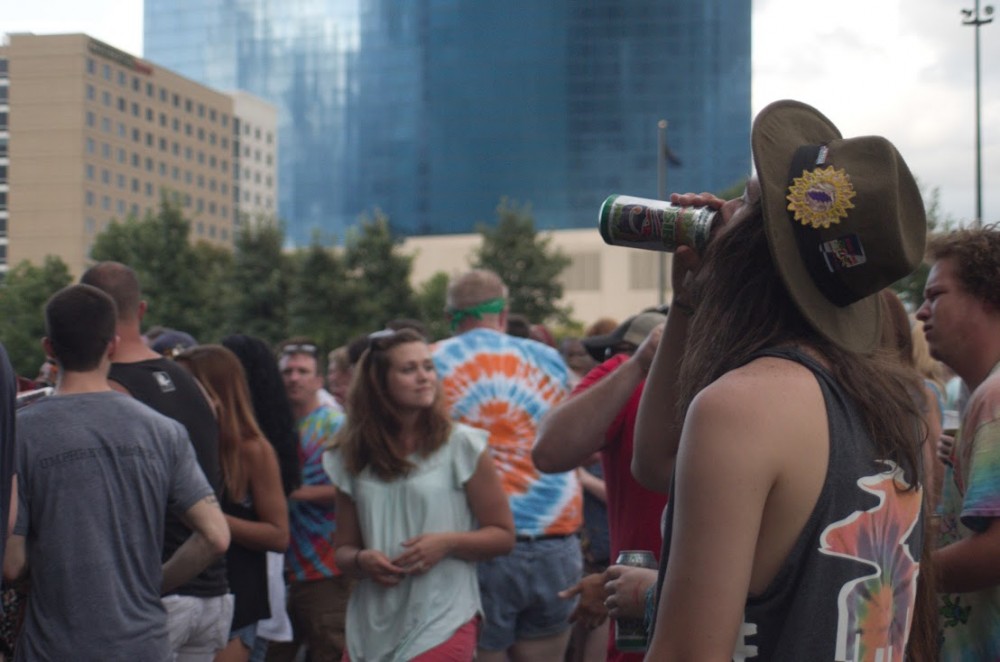 From Humble Beginnings....
Both Umphrey's McGee and (opener for this run) The Main Squeeze originated in Indiana college towns, playing bars. On Friday night, they played to 6,000 people in downtown Indianapolis on a perfect summer night.  It was a true "look how far we've come" moment and, although unspoken, seemed to have meaning to both the band and the audience.
On the second night of a run of show, things begin coalesce between those who you meet in parking lots and during set breaks.  It was clear that many, like us, had made the trip from Illinois.  In fact, real connections were being made. A chance meeting in the crowd the night prior led to a pre-show party with friends-of-new-friends and a welcome spot in Indianapolis for a little rest and relaxation.
All of this came to be reflected in the second night's performance.  As if to acknowledge their in-state origin, the journey began with "Preamble", the introductory tune that signifies the start of the most epic of UM's progressive rock compositions, "Mantis". 
A mid-set trio of "1348" > "Passing" > "Hajimemashite" continued the winding path with its combination of freaky metal shredding, a 137 show bustout, and emotional vocals.  The quintessential Jake tune, "Nothing Too Fancy" broke out into some bounce back improvisation, building two sections at once before completing a stellar transition to the end of "Mantis".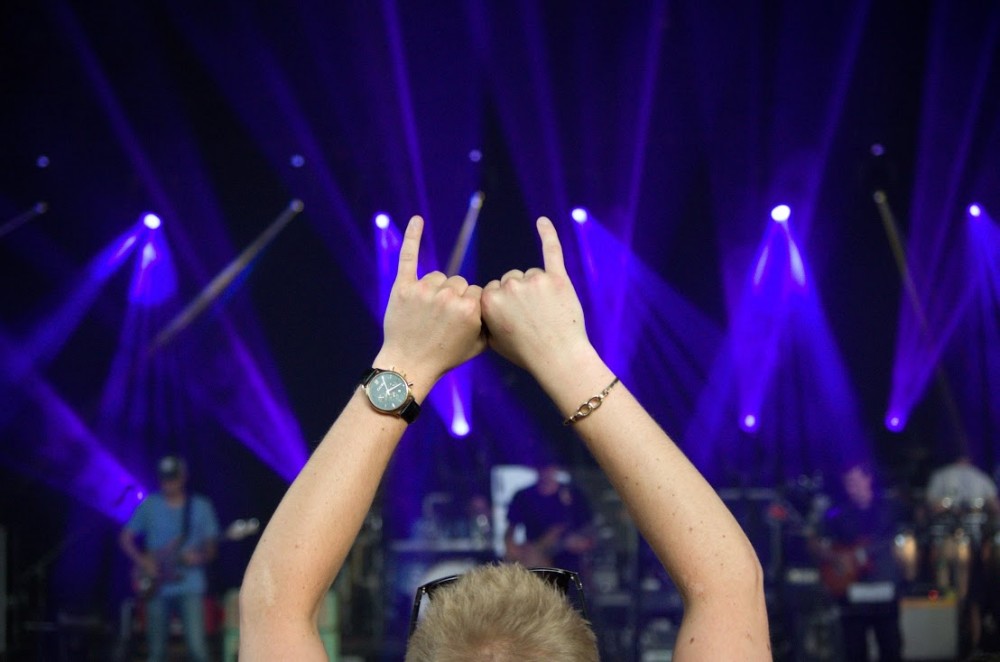 I found myself on the back of the lawn chilling with newfound friends and families geared more towards relax than rage, but soon the heavy riff-rock of "The Floor" got even some of these heads banging, complete with a  "25 or 6 to 4" jam.
I couldn't help but recall the outstanding, rain-soaked version of "Ocean Billy" from this year's Summer Camp Music Festival, as they started the Indy performance.  While this play didn't quite get as far out there, it bled into an original version of "Cut The Cable" -- mellower than normal, with Bayliss in control.
The Hoosier theme was brought home when the band welcomed Corey Frye from The Main Squeeze for a cover of Mark Ronson's "Daffodils".  While the vocals definitely sit well within Frye's range, the sentiment needed to outweigh the song selection, as this didn't exactly top my list of things I came to Indy to hear.
Luckily, peronsal favorite, "Conduit" came next and led to some solid peak shredding, the jam melting away from the song's structure before subtly throwing in the lick from "Crazy Train".  
For the encore, "Live And Let Die" was definitely more my speed as far as covers go, and the guys brought the energy, but the crowd slacked on singing along.  Finishing "1348" put a heavy button on the end of a heavy rock show.
Indianapolis Highlights: "Mantis", "Conduit"
MVP: Bayliss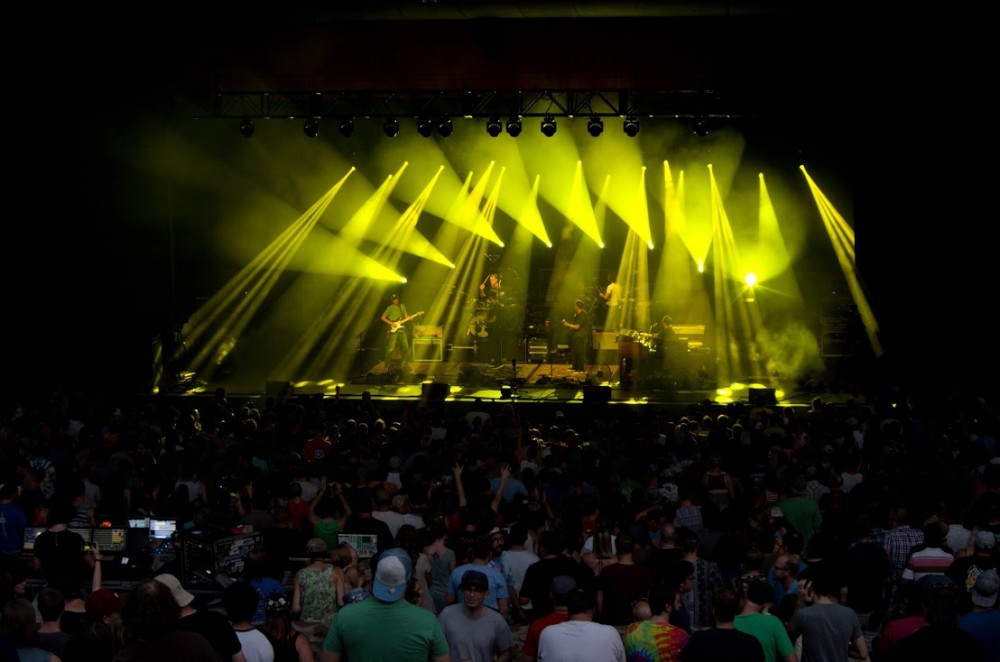 "You would not believe your eyes, it's all your circus now"
Those are lyrics from "Wife Soup", which closed Saturday's first set in Louisville.  They are so appropriate for those who were able to drop into the world of this tour.  For Midwest fans willing to drive a bit, Umphrey's had one more place to pitch their circus tent, and it was a doozy.
Iriquois Ampitheater is beautiful, spacious but still intimate outdoor venue.  Seating is completely general admission but it does feature permanent seats -- giving a little more room to move -- and a roof for shade.  It quickly jumped to the top of my favorite venues and I have Umphrey's McGee to thank for taking me here.
"Wappy Sprayberry" got the night off to a dancey, electronic start.  The fairly standard version segued right into the goofy "Got Your Milk (Right Here)".  The fun, sarcastic rocker was the precursor to a show that saw the band let loose and have a good time.
The first big improv of the set came with "FF", another tune I've been chasing over the years.  It managed to escape its reggae foundation and drift into a few unique territories.  When I spoke with Jake a few months ago about songs that lend themselves well to improv, "FF" was offered as a surprise choice, but after seeing this one in action, I definitely agree.  There was a real flow stemming from its jam, more subdued and patient than its peers.
The first cover of the evening was a mouthful: "When The World Is Running Down, You Make The Best Of What's Still Around."  Bayliss' vocals on The Police classic broke away to reveal more big improv, building high energy peaks beginning with Jake's complicated solo guitar progression that the band was able to latch onto on the spot.  Amazing to see this work happen on the fly.
Set two kicked off with "In The Black" which showcased both their heavier side and their habit of turning past improvisations into full-fledged songs.  The intensity continued with my personal favorite "Hurt Bird Bath" -- the jam staying true to form, but the energy elevating completely through the roof.  The crowd and band were really feeding off each other, and just pushed the guys to get noisier… and weirder. 
Kris Myers, typically explosive and dynamic, took things to a different level, with creative fills and interactions with the other instruments.  Joel gave the crowd a shout out for being so great, which prompted Bayliss to declare that they would keep it old school for us.  Please and thank you.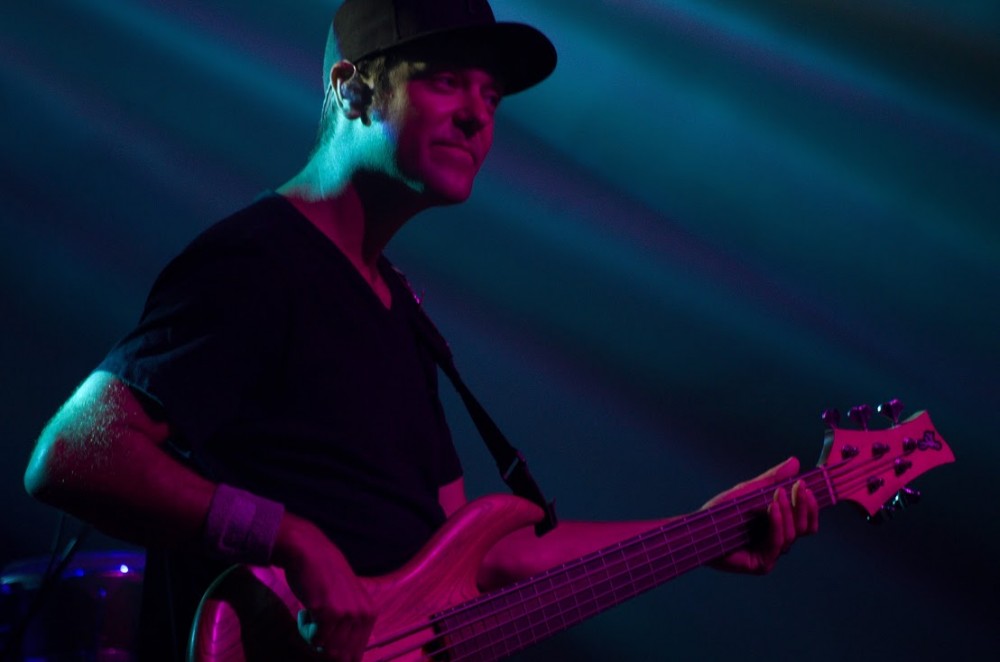 "Intentions Clear" featured some solid improvisation that stuck to the short and sweet model that the band played with all show.  A Joel driven piece, "Kimble", was a nice surprise.  The tune carries that early prog-classical UM sound and showcases the band's ability to mess with weird time signatures.  The always welcome "Phil's Farm", never got too far out but still saw some great playing, again featuring Myers, who took more createive risks than usual, which totally paid off.
Midway through the set Stasik brought things down with a harmonic intro into "August" -- after dozens of Umphrey's shows, this was my first time seeing Ryan take a proper solo, which simultaneously made me wish he did this more, but also revel in how great it is to discover something new in this music night after night.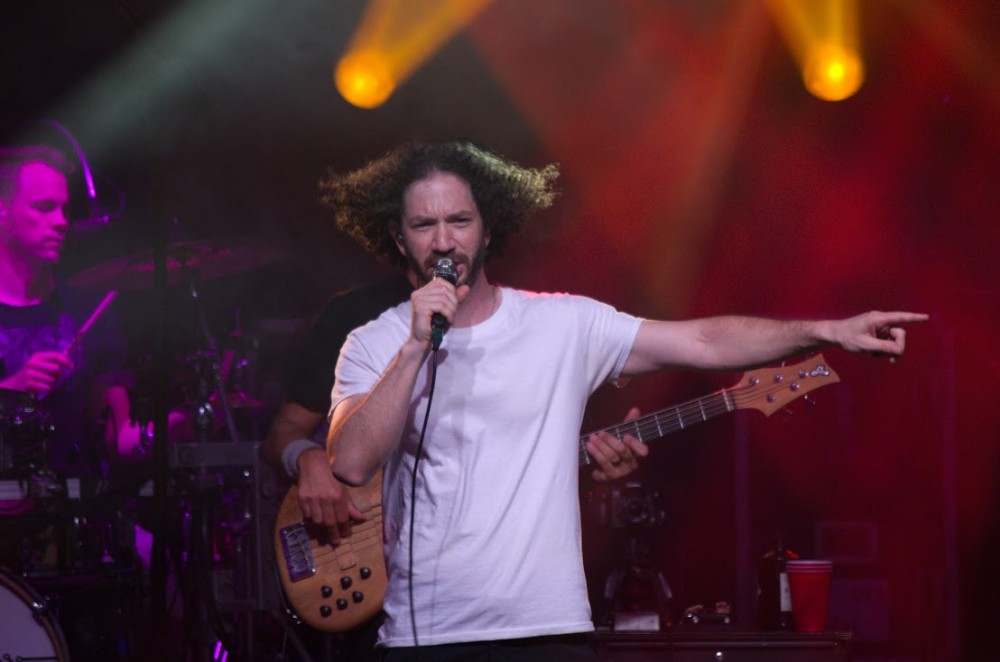 The encore was an "In the Kitchen" / "Regulate" sandwich with percussionist Andy Farag coming from behind his rig to spit some classic Warren G lines in the middle of one of UM's most recongizable tunes.  Yes, the circus was in town.  Although it wasn't Chicago, there's no doubt the band and their management are cultivating this fanbase on this tour, giving us opportunities to create adventures on our terms, and supplying the fuel to keep us happy and entertained.
It might not be long until the tent grows wide enough for some different opportunties in Chicago, too.  Stay tuned.
Louisville Highlights: "Got Your Milk", "Hurt Bird Bath"
MVP: Kris Myers
Umphrey's McGee performs next in Chicago on Saturday, September 3rd, an official North Coast Music Festival after party, and closes the festial on Sunday, September 4th.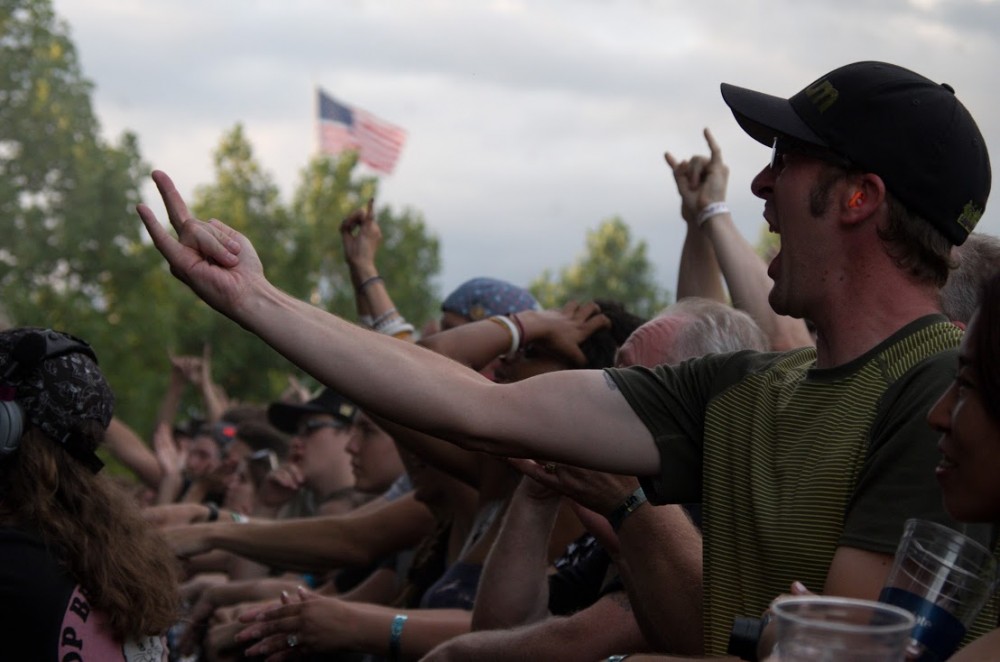 Set 1: The Message[1] >  All In Time >  Hourglass,  Eat >  Orfeo >  Eat >  In a Silent Way >  Educated Guess,  Push the Pig >  Resolution >  All In Time
Set 2: Der Bluten Kat >  Kula >  Der Bluten Kat,  Ringo[2] >  The Triple Wide[3],  Forks,  Kabump >  Make It Right
Encore: Waiting Room,  Mulche's Odyssey
[1] with Jake on keys
[2] with Voodoo Child (Jimi Hendrix) tease
[3] with Rhiannon (Fleetwood Mac) teases
Support: The Main Squeeze
Purchase via UMLive: 08.04.2016, CEFCU Center Stage at The Landing, Peoria, IL
Set 1: Preamble >  Mantis >  Speak Up,  Higgins,  1348 >  Passing >  Hajimemashite,  Nothing Too Fancy >  Mantis
Set 2: The Floor[1],  Partyin' Peeps,  Ocean Billy -> Cut the Cable[2] >  Daffodils[3],  Conduit[4] >  Nothing Too Fancy,  40's Theme
Encore: Live and Let Die >  1348
[1] with 25 or 6 to 4 (Chicago) jam
[2] original version
[3] with Corey Frye on vocals
[4] with Crazy Train (Ozzy Osbourne) jam
Support: The Main Squeeze
Purchase via UMLive: 08.05.2016, Farm Bureau Insurance Lawn at White River State Park, Indianapolis, IN
Set 1: Flamethrower >  Wappy Sprayberry >  Got Your Milk (Right Here),  Attachments,  FF >  Mail Package,  When the World Is Running Down You Make the Best of What's Still Around > Blue Echo >  Wife Soup
Set 2: In The Black,  Hurt Bird Bath,  Intentions Clear >  Kimble,  Phil's Farm >  Nopener,  August
Encore: In The Kitchen >  Regulate >  In The Kitchen
Support: The Main Squeeze
Purchase via UMLive: 08.06.2016, Iroquois Amphitheater, Louisville, KY