What is Voicebox? A Night of Music & Storytelling at Fitzgerald's
Words & Photos: Terry Faloon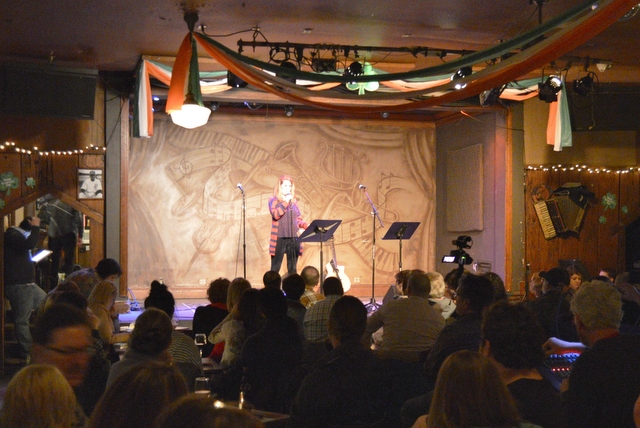 On the second Tuesday of each month at Fitzgerald's in Berwyn, I have discovered a place where magic happens.  It's a place where a group of kindred spirits meet to tell stories, listen to music and build community. Voicebox happens, and there is a lot to like about this inspiring, entertaining and increasingly popular program.
Voicebox is the brainchild of Maureen Muldoon, the effervescent and wildly entertaining Mistress of Ceremonies. After leaving a burgeoning Hollywood acting career to raise a family in the Midwest, Maureen devoted some of her seemingly infinite energies to creating a storytelling format with a delightful twist.
The Mission Statement for Voicebox describes it as a "story, a slam, a song, a serenade, a surrender. A place to be heard and hear about the human condition....  where a song leads to a story and a story leads to a song and the beat goes on and out and up. Where your feet tap to the rhythm, your head nods in agreement, your hands meet in appreciation, and your heart pounds in anticipation for the chance to share your ... voice..." All true.
Voicebox has distinguished itself from other storytelling events by its deft inclusion of music into the bill, drawing from the captivating talents of Cathy Richardson.  Long known to Chicago area music fans, Cathy is also a nationally recognized talent, the star of the successful musical stage show Love, Janis and currently touring with Jefferson Starship, where she captures the force of Grace Slick while putting her original stamp on classics like "Somebody To Love' and "White Rabbit", adding some youthful muscle to that iconic rock outfit.
But beyond her ability to interpret classic rock songs, Dylan-esque folk, and pop standards, she draws from hundreds of original compositions and brings legitimate "rock star" credibility to the festivities.  More than just a singer/musician, Richardson is a skilled entertainer, with the talent and charisma to take the crowd along for a wonderful ride.
A typical evening at Voicebox begins with a short monologue by Muldoon followed by Richardson singing the month's theme song.  On March 10th, the theme was "Vehicle" by The Ides Of March. Each month, assembled storytellers deliver original works based on the evening's theme song. Following each of the 5 or 6 stories, Cathy takes the stage, and, having never heard the story before, performs an impromptu song inspired by it. That is often where the magic happens. The spontaneous nature of the moment can be thrilling.
The "silent partner" in this venture is Fitzgerald's itself, nationally recognized as one of THE finest rooms for live music. The vibe is always great at Fitzgerald's; on Voicebox nights, it is exceptional. All present are in a good place.  Even Chris, the dedicated  barkeep and Sophie, the delightful server, look forward to working this event because it's so damn fun.
On these nights, the music is an accent to the stories. Voicebox has attracted a coterie of thoughtful writers and performers who deliver tales ranging from uproarious comic blasts to heart rendering accounts of love, deception and abuse that leave the audience silent. The stories can be provocative and insightful, sometimes loose and freewheeling, often impeccably structured and densely packed with heartache and pain.  There are a few semi-regular storytellers, but the program strives to reserve several spaces each month for first time storytellers.
Tuesday's program marked the 2nd Anniversary of Voicebox and clearly the arrow is pointing up. To celebrate the big night, the principals pulled out all the stops, enlisting the services of the multi-talented singer-songwriter Jim Peterik, original member of The Ides of March and Survivor (a Berwyn Native who wrote and sung both "Vehicle" and "Eye of the Tiger"). Peterik joined forces with Richardson for an inspired version of "Vehicle" to start the evening.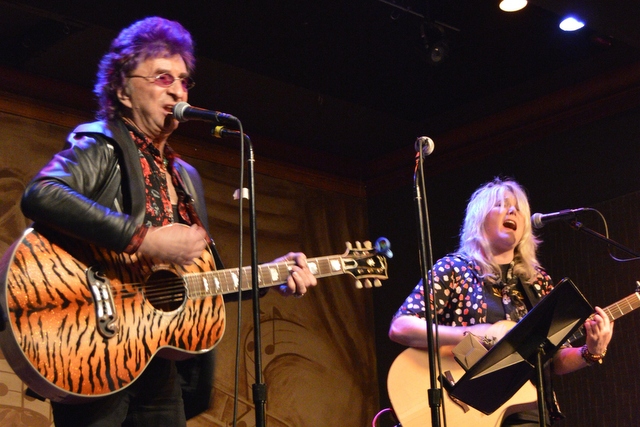 After some opening comments by Muldoon, writer and story teller Ron Estrada took the stage. Ron approached the evening's theme differently than the other speakers, choosing to focus on the month of March, and the ominous Ides of March, rather then the titular "Vehicle."
Ron's tale was entitled Calendar Reassembled, and as with his past stories, Estrada offered an intelligent, spellbinding, alternative perspective on life.  This time detailing a series of events in his grandmother's life, including her passing, all of which happened in the month of March. Ron's touching words and images encouraged the audience to examine their own relationships with loved ones. At the conclusion of Ron's story, Richardson and Peterik sang a beautiful version of the Ides of March pop classic "You Wouldn't Listen". I didn't quite understand the connection between this song and the story but it hardly mattered as the duo's treatment of this 1966 pop gem transported the audience to an earlier, more innocent time.
Next up was Voicebox Virgin Liza Passarelli, who, in her story,  A Road Trip Over The Hill, confessed her uneasiness with her upcoming 40th birthday and how she  strives to forge an identity other than that of yet another stressed-out soccer mom. Passarelli detailed her recent dreams which have focused on bridges, signifying transition, and expressed concern about where her life's road is taking her.
Consistent with the evening's theme song,  the story concludes with an act of defiance as Ms. Passarelli boldly treats herself to a sweet new sport SUV instead of the Caravan everyone was expecting her to get. The universal theme of anxiety over big birthdays was treated with clever humor in Ms. Passarelli's wild ride, and her confident style belied the fact that she was a first time story teller. Her purchase of a Mercedes Benz SUV suggested the perfect song to Richardson: Janis Joplin's "Mercedes Benz". She did not disappoint and the audience happily sung along.
Megan Blythe Ritchie took the stage next. As with all storytellers, Ritchie has her own  style.  She exudes an endearing softness that welcomes you and provides comfort like a familiar blanket. The content is often bittersweet and strikes universal chords. On this night she told a story called Bike and a Pony revolving around her 12th birthday. Her dream present that year was a new bicycle, though she felt that she might be asking for too much. Imagine her shock when she not only received a new bike, but through some unusual circumstances, a neighbor in her rural area strolled down the street and bestowed her with a Pony as well! A Bike AND a Pony. Happy Birthday indeed!
But not all was well this day for even the wonder of these gifts was mitigated by the embarrassment caused when her bare-chested uncle paraded her invited classmates around on a pony. The audience was left to contemplate on priorities, both childhood and adult. Cathy and Jim then played an energetic version of Peterik's "Eye of the Tiger"....which I heard some clever audience members translate to "Eye of the Pony" in honor of Rithchie's story.
Next was Jane Mathie who has graced the Fitzgerald's stage before and consistently presents a provocative and entertaining narrative delivered with more than a hint of theatricality. Ms. Mathie regaled the assembly with an account of an adventurous solo road trip to Indianapolis with Sally Tomato, her sexy red Mazda GLC. I can't do justice to her story in this limited space, but suffice it to say that the creeps and weirdos that populate America's highways are no match for the intrepid Ms. Mathie. Mathie's material always works well with her direct, confident delivery. Richardson supplied the perfect musical chaser with a satisfying treatment of Tracy Chapman's timeless "Fast Car."
I took the stage next and spun a yarn about my first ever vehicle, the legendary Shadowfax. Imagine my punk-ass 17 year old self cruising around Connecticut with a Ford Econoline Van. My saga went for laughs and the audience responded well, as I incorporated vignettes of my shenanigans and hi-jinx... road tripping to my first Dead show at Colt Park in Hartford, to Florida, to the beach, here ..there .. and beyond...in my sweet van that smelled like newspapers and bong water with a moldy couch and lawn chairs in the back.
Richardson, accompanied by Ellen Miller on harmonica,  followed my story with the bittersweet Stills/Young classic "Long May You Run" in tribute to Shadowfax....Magic!!!
Maureen Muldoon closed with a tale from the 'hood, featuring the rambunctious Muldoon clan, whose efforts to bum a ride on the neighbor kids go kart were consistently rebuked, leading them to convert a shopping cart into a makeshift go kart of their own. This led to a harrowing death ride down the gravelly street for 8 Muldoon kids. The crew all suffered various cuts, scrapes and traumas but emerged victorious as a unit and gave no further thought to Eddie Tracy's go kart.
The audience truly connected with Muldoon's version of 1970's New Jersey, as she painted a picture of childhood rivalries, the generation gap and compelling family and neighborhood dynamics. Richardson followed with her original song, "Cadillac Woman."
As evidenced by the above stories, a typical night at Voicebox exposes the audience to the full range of human emotions. Tonight's theme may have lent itself a little more to humor, but even so, the variety of the stories and the deliveries of the storytellers allowed the audience to dip their toes in another's experience and perspective. Voicebox regulars are known to refer to the second Tuesday as "the best night of the month."
It is no exaggeration. The crowd numbered over 100, impressive for a winter Tuesday night in Berwyn and it was evident that everybody was very much in to the proceedings.  Voicebox is an unique experience... and serious fun. Sure, due to Peterik's guest appearance, several of the songs were tailored to honor his extensive and impressive career. On a typical night Richardson's selection of impromptu songs is more far reaching.
There is a $10.00 cover charge and students are $5.00. Storytellers get in for free!!
If you want to tell a story or have further inquiries, contact maureenmuldoon@gmail.com
Upcoming dates/themes are:
April 14/ A FOOL'S REGRET by Cathy Richardson
May 12/ HERE COMES THE SUN by The Beatles
SETLIST
Cathy Richardson and Jim Peterik - Vehicle by The Ides of March
Calendar Reassembled:  a story by Ron Estrada
Cathy Richardson and Jim Peterik - You Wouldn't Listen to Me by The Ides of March
A Road Trip Over The Hill: a story by Liza Passarelli
Cathy Richardson - Mercedes Benz by Janis Joplin
Pony and a Bike: a story by Megan Blythe Ritchie
Cathy Richardson and Jim Peterik  - Eye Of The Tiger by Survivor
Sally Tomato: a story by Jane Matthie
Cathy Richardson - Fast Car by Tracy Chapman
Shadowfax: a story by Terry Faloon
Cathy Richardson (with Ellen Miller on Harmonica) Long May You Run by Neil Young
Eddie Tracy's Go Cart: a story by Maureen Muldoon
Cathy Richardson - Cadillac Woman (original)