Wheels Of Soul Roll Through Ravinia On Father's Day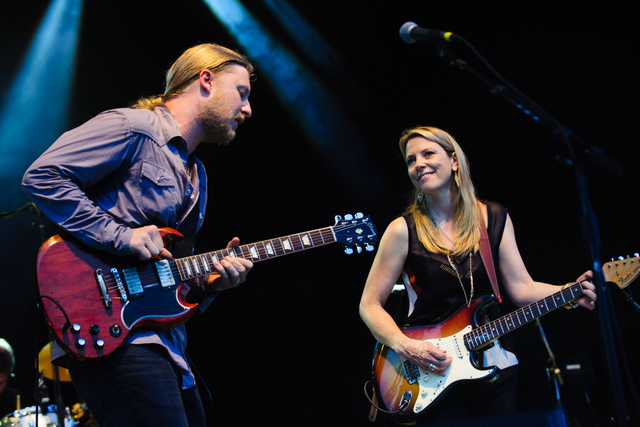 Father's Day is not always an ideal time for concerts, but the park-like atmosphere of Ravinia can make it a fine location for a family outing. I was joined by my wife, three sons (ages 8, 11 and 12) and some friends this past Father's Day -- and with that crew, the ability to shuttle between the picnic-like lawn and a pair of great seats in the pavilion didn't hurt much either.
Then there was the entertainment: Wheels of Soul, a sort of branded package tour with an alluring logo, and three bands that that in membership, and in sound, figuratively and literally span generations and connect the present to the grand pop, rock, blues and soul traditions that have been carried forth since the 1960s.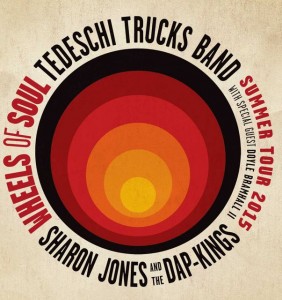 Doyle Bramhall II kicked things off with a 30 minute set, delivering swampy psychedelic blues on an upside-down Fender. The crowd was thin, but appreciative.
But things didn't quite get crazy until Sharon Jones and the Dap-Kings arrived to the stage for their allotted set -- yes, something special is in the air when the front woman has got her own MC (guitarist Binky Griptite) and hype man... and a built-in warm-up act. Backup vocalists Saun and Starr, who will release their own album later this year, got to front the Dap-Kings for first couple of songs in the set, priming the crowd and inviting them to get out of their seats.
But it wasn't until Griptite introduced, "the sister who just kicked cancer in the ass," and Jones took the stage like she was shot out of a cannon, that electricity truly shot through the crowd.
Dropping a pair of choice covers, Gladys Knight's "Every Beat of My Heart" and Marvin Gaye's "I Heard It Through The Grapevine" amidst original tunes from her last few albums, Jones brought a powerhouse retro soul back in style again, even whipping through a series of old-school dance moves.
All very family friendly.
So it was with understandably high spirits, that I brought my 12-year-old son down to the pavilion to experience Tedeschi Trucks Band.
We broke him into big, rock concerts last summer at Paul McCartney, when he became a true Beatlemaniac. While his little brothers lean towards pop and hip hop, he's got an "old soul" and Tedeschi Trucks Band falls right into his wheelhouse.
By the third song, they were already jamming out on a Beatles song, "I've Got A Feeling" which certainly helped draw him in.  A new tune "Anyhow" followed, and it has a classic structure and impassioned vocals by Susan Tedeschi.
Derek Trucks was effortless in his command of the guitar all night, but it may have peaked during "Midnight in Harlem", a sweeping, operatic guitar solo that soared above the large band as they laid down a thick and relentless groove. At its close, about forty-five minutes into the band's set, thinking that we might offer these great seats to his mother or little brothers while we retreated to the lawn, I asked my son if he'd like to make a switch.
His answer was a swift and definitive, "No."
Happy Father's Day indeed.
Epilogue
My son eventually relented, although he did make it back down with mom eventually.  As a reward, he got the up-close view of 21 musicians on stage for the encore, a free wheeling jam with TTB, Sharon Jones, the Dap-Kings and Bramhall on a pair of Sly Stone covers.
Tedeschi Trucks Setlist
Break in the Road
Do I Look Worried
I'e Got A Feelin'
Anyhow
Midnight In Harlme
Learn How To Love
Keep On Growing
Get What You Deserve
I Pity The Fool
Idle Wind / Bound For Glory
The Storm
Encore (with Bramhall, Sharon Jones & The Dap Kings)
Tell Mama
Sing A Simple Song >
I Wanna Take You Higher