White Denim's New Album and Tour: What To Expect
By: Alex Wood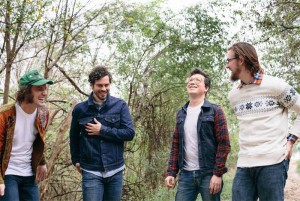 White Denim's new lineup, as shown on Facebook
When White Denim announced that their new studio album, Stiff, will be released March 25th through Downtown Records, there were a few red flags immediately raised to longtime fans like us at The Barn.
While Stiff is the proper studio follow-up to 2013's Coriscana Lemonade, the last two years have been a tumultuous period for the band, leaving some skepticism as to whether fans should expect the same quality from the upcoming release as existed on their last two records.
The Background
The uncertainty began when the band seemed to split in two in 2014, with singer James Petralli and bassist Steve Terebecki recording and touring with side-project Bop English and lead-guitarist Austin Jenkins and drummer Joshua Block recording and touring with overnight-sensation Leon Bridges. Petralli and Terebecki soon used the White Denim moniker again for a show in Austin, but had replaced Jenkins and Block with Bop English's touring members, leading to mixed reviews from fans present at the show.
Jenkins and Block continued touring with Bridges, the run including sold-out dates at The Vic and Chicago Theatre, as well as guest-spots on Saturday Night Live, The Late Show With Steven Colbert and more.
Meanwhile, White Denim announced Stiff, but without the inclusion of Jenkins and Block.
The New Lineup
Always tuned in to the music scene of their hometown Austin, the remaining members of White Denim recruited two veteran underground musicians for the band's new lineup, guitarist Jonathan Horne and drummer Jeffrey Olson, from their own stomping grounds.
Jonathan Horne has been a member of multiple musical projects over the last five years, playing guitar for jazz-fusion band The Young Mothers, outsider-punk group Plutonium Farmers and the lesser-known experimental duo Holt+Horne.
Between the three projects, Horne showcases an absurd quality of improvisational musicianship in The Young Mothers, an unstoppable energy and inventiveness in Plutonium Farmers (who, as a side note, recorded their double-LP with Steve Albini), and an ear for sonic subtleties and effects pedals in Holt+Horne.
All of these, to say the least, could go far with, and are practically essential in, a band with experimental psychedelic leanings like White Denim.
Jeffrey Olson, a jazz performance major at the University of Texas at Austin, drums for local Austin musician Emily Wolfe.
Emily Wolfe shares a certain skuzzy, guitar-based sound with White Denim, though the percussion is hardly as demanding as White Denim's progressive live performances. With that said, Olson's drumming sounds clean and precise, and Petralli's compositions may allow the percussionist to dig deeper into his jazz background.
Needless to say, Petralli and Terebecki didn't seem to settle for less in selecting their new band members.
What We Know About Stiff
This brings us to Stiff.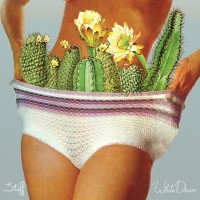 The nine-song LP, to be released by Downtown Records, is their first to use an outside producer for the entire sessions.
Producer Ethan Johns has an unbelievable reputation in the music scene, having overseen countless recording sessions including Ryan Adams' Heartbreaker and Gold, Paul McCartney's New, Ray LaMontagne's Gossip In The Grain and multiple records from Laura Marling and Kings Of Leon.
Furthermore, Stiff was recorded "live to 16-track tape with few overdubs" in an attempt to capture the band's notorious frenetic live sound, according to a press release for the record.
Petralli refers to the album as a "high heat, high energy, good times record," adding that the band "learned a lot making D and Corsicana Lemonade. We wanted to take some of those lessons and apply them back to our original mission statement and get back to some of the things that made us excited about the band in the first place."
Other changes from past releases include a song co-written by Cass McCombs, "Thank You," and a song sampling 60s psychedelic band Red Krayola, "Had 2 Know (Personal)."
And of course, we've been prepped for the album by a series of classic covers, from Led Zeppelin to Traffic to Mickey Newbury (via Kenny Rogers), that have dribbled out over the past couple of months, but each with an unmistakable White Denim stamp.  Is this a signifier to a more accessible set of tunes on Stiff?
The First Single
With the announcement of Stiff, White Denim released "Holda You (I'm Psycho)," the new record's first single.
The song immediately jumps into bombastic guitar soloing in an upbeat tempo, relentless riffs buried beneath Petralli's distinctive vocal delivery. Terebecki's bass sounds particularly reinvigorated, driving the song's energy throughout the track.
As is the case of White Denim's best tracks, the song refuses to stand still, slowing down to a percussive instrumental bridge in the middle before building again to a climactic finish.
The biggest change in the studio sound comes from Austin Jenkins' absence, his tone and precision having given past classics like "Anvil Everything" and "At Night In Dreams" their distinctive feel. However, the recording shows growth, the band focusing on the looser, live feel instead of a layered studio sound, a move that may help the new band's live sound.
Looking Toward The Future
With the new album announced and the single released, White Denim will begin touring with their new lineup, including a date at Chicago's Thalia Hall on April 30.
Looking solely at the facts surrounding the changes, there should be no significant reason for fan's to fret over the new lineup, as much as we may hold the classic D and Corsicana tours on a guitar-rock pedestal. (The Bonnaroo shows, anyone?)
White Denim has always been a band that accepted change, including the addition of Jenkins in 2010, which solidified their progressive sound, leaving the simpler garage-rock recordings behind.
With two original members remaining and no apparent intention of changing the inventive, guitar-centered sound that gained the band their following in the first place, White Denim will again step into new territory in 2016, leaving fans no real option but to follow.
Keep your eyes peeled and your ears open, because Petralli and his band have no intention of slowing down any time soon.
Preorder Stiff here prior to the March 25th release date, and check out the track list below.
Stiff track list:
1. Had 2 Know (Personal)
2. Ha Ha Ha Ha (Yeah)
3. Holda You (I'm Psycho)
4. There's A Brain In My Head
5. Take It Easy (Ever After Lasting Love)
6. (I'm The One) Big Big Fun
7. Real Deal Momma
8. Mirrored In Reverse
9. Thank You
US Spring Tour Dates
3/24 - Denver, CO - Bluebird Theater http://bit.ly/1Rlg4ZX
3/25 - Salt Lake City, UT - The State Room http://bit.ly/1Rlg4cA
3/27 - Portland, OR - Doug Fir Lounge http://bit.ly/1RlgeAE
3/28 - Seattle, WA - Neumos http://bit.ly/1RlgjV3
3/30 - San Francisco, CA - The Independent http://bit.ly/1RlgnE54/1
4/1 - Los Angeles, CA - Teragram Ballroom http://bit.ly/1OSTpxr
4/2 - Solana Beach, CA - Belly Up Tavern http://bit.ly/1RlgvDx
4/4 - Phoenix, AZ - The Crescent Ballroom http://bit.ly/1RlguQb
4/17 - Nashville, TN - Exit/In http://bit.ly/1RlgBLs
4/19 - Charlottesville, VA - The Southern http://bit.ly/1RlgM9x
4/20 - Washington, DC - The Black Cat http://ticketf.ly/1RlgRdq
4/21 - Philadelphia, PA - Union Transfer http://bit.ly/1RlgQGk
4/22 - Cambridge, MA - The Sinclair http://bit.ly/1OSTeSG
4/23 - South Burlington, VT - Higher Ground Ballroom http://bit.ly/1Rlh14D
4/25 - New York, NY - Bowery Ballroom http://bit.ly/1OSSMUB
4/28 - Columbus, OH - Skully's Music Diner http://bit.ly/1Rlh6Fo
4/29 - Indianapolis, IN - The Hi-Fi http://bit.ly/1Rlhaot
4/30 - Chicago, IL - Thalia Hall http://bit.ly/1Rlhdkb
5/1 - St. Paul, MN - Turf Club http://bit.ly/1Rlhfsr
5/3 - St. Louis, MO - Off Broadway http://bit.ly/1Rlhl3b
5/4 - Lawrence, KS - The Bottleneck http://bit.ly/1OST0uS