These Official Wanee 2017 Videos Are Incredible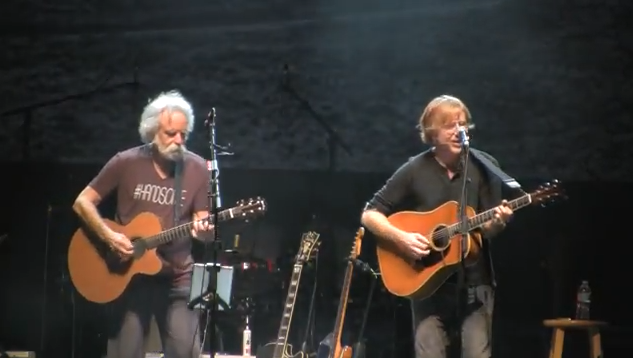 The Southern USA is the place to be this weekend.  With Sweetwater 420 Fest in Atlanta and Wanee in Florida, jam acts are making the festival rounds.
Wanee has seen several of our favorites on the same days, and they've not been shy about doing a little collaboration.
The official YouTube channel of the fest (Suwannee HD Streams) has been awesome about pumping out the high quality HD videos, so let's get right into them. 
The powerhouse collaboration of the weekend -- on Saturday night, former Fare Thee Well bandmates Trey Anastasio and Bob Weir meet up for a mini acoustic duo set.  And the setlist is wild. Starting off with "Deep Elem Blues" and then.... "Friend Of The Devil"
Next, a lengthy "Bird Song" into Phish's "Miss You" (this time Trey tackles the vocals... Weir did the honors at last fall's Nashville Phish sit-in).
Lady Gaga's "Million Reasons" because why the hell not...
Update 4/25: acidjack of @nyctaper has uploaded the entire set to archive.org
Download Entire Show (via archive.org)
Here's Trey giving an emotional speech about the late, great Butch Trucks while fronting TAB.
In another Butch tribute, on Friday night Widespread Panic busted out The Allman Brothers Band's "Mountain Jam" for just the second time since the 80's.  They did it with a little help from wunderkind guitarist Marcus King.
Weir - solo and acoustic - "Two Djinn" > "Corrina"
"When I Paint My Masterpiece"
And Dark Star Orchestra, infamous Dead set recreators, tackle the most infamous Dead set of them all: May 8th, 1977 set two.