Stevie Ray Vaughan @ Chicago Blues Fest 6/7/85: Stream and Download
It's Blues Fest Friday here in Chicago.  Here's a Retro Jamming feature that will take you back aways.  We're going way back to Blues Fest 1985 to hang with Stevie Ray Vaughan and Double Trouble. Just a reminder of the top shelf talent that will be on display this weekend and every June on the most beautiful lakefront in the world.
A few bonus tracks get tacked on to the end of this boot as well, though we drift away from Chicago.  He gets help from his brother Jimmie in one of his two songs from Saturday Night Live (February 1986) and Stevie performs "The Sky Is Crying" with Albert King and B.B. King at the Ebony Theater in Los Angeles.
The Stream (Click To Activate)

Download entire show (.zip mp3)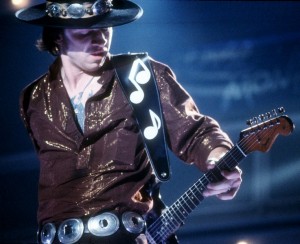 Stevie Ray Vaughan and Double Trouble
June 7, 1985
Chicago Blues Fest
Scuttle Buttin', Say What!, Ain't Gone 'N' Give Up On Love, Voodoo Chile (Slight Return), Mary Had A Little Lamb, Texas Flood, Come On (Part III), Testify
Saturday Night Live
February 16, 1986
Say What!, Change It
B.B King & Friends Televised Special
Ebony Showcase Theater, Los Angeles, CA
The Sky Is Crying