Late Night Roundup | LCD Soundsystem, Beck, Billy Corgan & More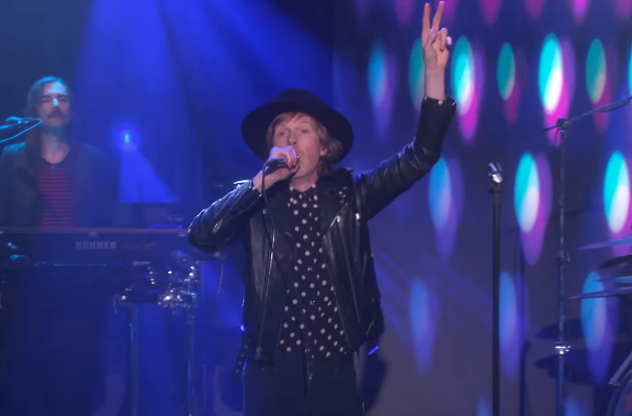 Watch some of Tomorrow's Verse's favorite bands hit the promotional late-night television circuit.
1. LCD Soundsystem on Jimmy Kimmel Live
Jimmy Kimmel is recording in Brooklyn this week, and what better way to celebrate the city than invite LCD Soundsystem? The band brought the massive sound of "Tonite" to the show with a performance that includes their go-to disco ball and a bubble machine.
2. Beck on Ellen
Currently working hard to promote his recently released pop record, Colors, Beck made a stop by Ellen to perform "Up All Night." It's a club-ready pop anthem that is undeniably fun.
3. William Patrick Corgan on The Tonight Show Starring Jimmy Fallon
Smashing Pumpkins frontman Billy Corgan is back with a solo album and a name change, and brought the gorgeous lead-single "Aeronaut" to Fallon this week. Performed on piano with a string section backing him, the song is nothing short of stunning.
4. Japandroids on Late Night with Seth Myers
Canadian garage-rock and punk duo Japandroids brought an especially energetic rendition of "No Known Drink Or Drug" to Seth Myers, with an explosive performance with influences ranging from The Ramones to Springsteen.
5. Wolf Parade on The Late Show with Stephen Colbert
Indie-rock staples Wolf Parade are back after seven years away, and brought their new single "Cry Cry Cry" to late-night television. Stacking keyboards and guitars beneath dramatic vocal harmonies, these guys are back to doing what they do best.
6. Anderson East on Ellen
Neo-soul singer Anderson East may win for having the most powerful performance on late-night this week. Utilizing a full horn section and background singers, the artist rips through "All On My Mind with passion.
7. Phoenix on Late Night with Seth Myers
French indie-pop favorites Phoenix continue to promote their excellent new album, Ti Amo, and performed a track from the record on Seth Myers' show. The band performed their single "Telefono" while literally standing inside a telephone booth.