Review / Videos / Setlist | Rivers Cuomo @ Beat Kitchen 4/10/18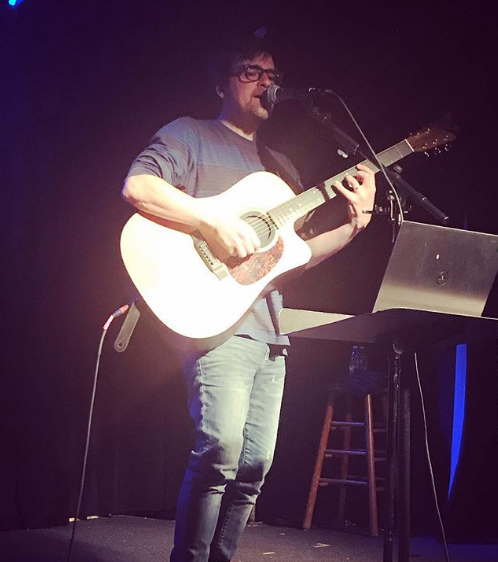 Words: Alex Wood | Photo: @comedyjunkie1
Weezer frontman Rivers Cuomo announced an intimate, one-off acoustic performance at Beat Kitchen last week, with tickets selling out instantly the next morning.
Though Weezer will perform at Hollywood Casino Amphitheater with Pixies this summer, this 300-capacity performance naturally felt like the polar opposite, an extremely rare opportunity to see the songwriter entirely on his own in a small room.
Though best known for the now-classic albums that began Weezer's career, such as The Blue Album, Pinkerton and The Green Album, the band has remained prolific over the past two decades, releasing a total of 11 albums, many of which switched to a decidedly more pop-oriented sound, a controversial move amongst longtime fans.
Fortunately, fans at the Beat Kitchen were treated to a set that pulled heavily from the band's early material, featuring nearly all of Pinkerton alongside other classics like "Buddy Holly" and "Say It Ain't So."
The setlist was self-admittedly carefully created by Cuomo, who snubbed the first song request shouted out during the show, simply stating that he had written a setlist and was excited about it.
In the end, this was for the better, as fans couldn't have asked for more from the choice of songs.
Rivers opened with REO Speedwagon's "Can't Fight This Feeling," a song that shared the pop sensibility and tight craftsmanship of Weezer's best, which quickly turned into favorites "Say It Ain't So" and "Pink Triangle."
The audience sang along loudly, and clearly knew every word to every song, giving a fun, loving vibe to the show and exhibiting the excitement felt by those lucky enough to land tickets.
Though many listeners might not immediately associate Weezer's music with highly skilled guitar work, Cuomo's musicianship was outstanding. He still performed the song's melodies and solos throughout, often using intricate picking that feels lost in the electric format.
As a whole, the Pinkerton songs stood out as especially complex compositions, constantly shifting chords up and down the neck of the guitar, changing tempos and relying heavily on picked melodies.
Fans would help sing counter-melodies, harmonies and second vocal parts when able, giving a loose but involved collaborative feel to the night.
Cuomo paid homage to other musical influences throughout the night, covering Green Day's "When I Come Around" and "Basket Case" and Smashing Pumpkins' "Today" and "1979." In a stranger choice, he also covered B.o.B.'s "Magic," though it somehow fit with newer, quirkier Weezer songs like "L.A. Girlz" and "Do You Wanna Get High." He also gave a nod to tour-mates the Pixies, covering "Where Is My Mind."
"Medicine for Melancholy," Cuomo's new solo song, was paired with "Sober Up," a song by pop band AJR that featured the Weezer singer. Though an odd choice and questionable song as a whole, the audience still knew every word.
After ending the show on "Why Bother," the audience chanted loudly for one more song. Cuomo returned to the microphone and played the requested song he initially snubbed, Pinkerton b-side "You Gave Your Love To Me Softly," a fitting ending to a set that relied heavily on the 1996 Weezer record.
In the end, the set was a perfect example of what makes Weezer such a special band to so many people, relying on perfectly crafted, melodic pop-rock songwriting, the informal and intimate setting underlining the carefree warmth of the band's music.
Watch videos from the show and view the setlist below.
Setlist:
1. Can't Fight This Feeling (REO Speedwagon cover)
2. Say It Ain't So
3. Pink Triangle
4. When I Come Around (Green Day cover)
5. Buddy Holly
6. Island In The Sun
7. Across The Sea
8. Today (Smashing Pumpkins cover)
9. Can't Stop Partying
10. El Scorcho
11. The Good Life
12. Basket Case (Green Day cover)
13. Do You Wanna Get High?
14. Falling For You
15. L.A. Girlz
16. (Girl We Got A) Good Thing
17. 1979 (Smashing Pumpkins cover)
18. Getchoo
19. Magic (B.o.B. cover)
20. Medicine For Melancholy
21. Sober Up (AJR cover)
22. No One Else
23. No Other One
24. Where Is My Mind? (Pixies cover)
25. Tired Of Sex
Encore:
26. Why Bother?
Encore 2:
27. You Gave Your Love To Me Softly
Can't Fight This Feeling (REO Speedwagon cover):
When I Come Around / Buddy Holly:
Today (Smashing Pumpkins cover):
Falling For You:
Do You Wanna Get High?:
Basket Case (Green Day cover):