Review / Setlist | Father John Misty @ Chicago Theatre 5/15/17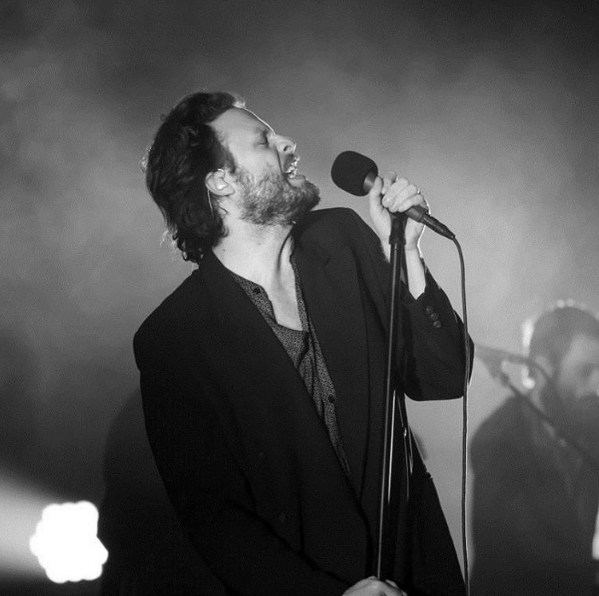 Words: Alex Wood | Photos: @chicagotheatre, @haleness,
Always self-conscious of his art and growing fame, each Father John Misty tour seems to bring something new to the table for longtime fans and newcomers alike.
His recent stop at Chicago Theatre was no exception.
Joshua Tillman, AKA Father John Misty, is currently promoting his latest record, Pure Comedy. Though an exceptional album, the songs are undeniably a little slower than his past work, with achingly honest lyrics and a solemn undertone.
Tillman really seemed to hit his prime during his Honeybear tour prior to this record, so how would this new material hold up in comparison? How does an artist that focuses so heavily on performance top his prior theatrics?
As the band began to take stage, it became immediately apparent that the entire show was to grow to far larger proportions. Father John Misty is taking it to the next level.
The backing band was gigantic. An eight-person string section and separate horn section took up the back of the stage, alongside three pianos, a bass, guitar and drummer. One horn player doubled as a conductor for the strings.
The backdrop was equally impressive, a massive screen featuring art projections, be it cartoons, landscapes or psychedelic patterns, with a circular moon sitting in the top corner, projecting different designs, colors and patterns.
If the setup on stage indicated that this would be a big show, Tillman's on-stage persona only drove things further into excess.
Slow, ominous strings met the dimming lights, pianos soon joining as Tillman took the stage to massive applause.
Title-track and first single "Pure Comedy" began simply but swelled to a gorgeous, dense arrangement, the layers of backing instruments sounding similar to the conscious arrangements of Bowie's Hunky Dory.
This density would remain for the entire show, and would be the factor that not only separates this tour from those prior, but would lift the new material to unfathomable heights.
By the end of "Pure Comedy," the band had reached a level of epic, big sounds that seemed more like Pink Floyd than anyone in the folk-rock scene in which Father John Misty is usually lumped.
The new songs were a perfect blend of clever songwriting and mindful arrangements, each band member pulling his or her weight without ever having to go overboard.
"Ballad Of A Dying Man" featured a sleek, psychedelic-country sound, building its way to a rock 'n roll finale. "Birdie" featured dark, spacious electronics, resulting in a sound somewhere between Tom Waits and King Crimson.
Tillman's ability to change styles and influences demonstrated a deep knowledge of rock history, the songs held together by the consistently stellar songwriting.
The first seven songs performed were simply the first half of Pure Comedy, in order, though without the 13-minute "Leaving LA." In this time, Tillman not only proved the merits of his new work, but established them as a vital part of his repertoire, able to sit with any of his older material.
Yet as the first, instantly recognizable notes of Honeybear's "When You're Smiling And Astride Me" hit, the entire audience stood up from their seats, applauding the first sign of older material after more than 30 minutes of performance.
The song took on an epic tone with the help of the strings, moving from the spacious verses to rocking instrumentals, Tillman pacing the stage in a theatrical manner.
The remainder of the set would be old material, though the backing band breathed new life into the songs, offering a unique opportunity to flesh out the simpler studio recordings into far larger beings.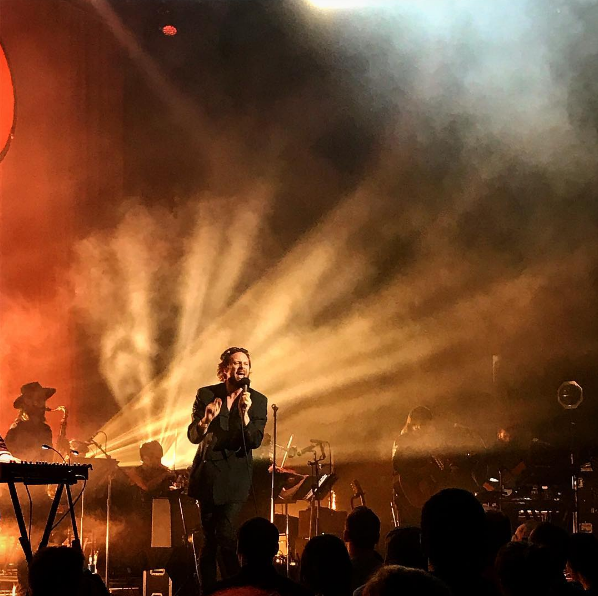 "True Affection" returned to electronics, the keyboardists layering 80s-inspired, jagged rhythms over the crunching drums and background strings.
The massive combination of "Hollywood Forever Cemetery Sings" and "I Love You, Honeybear" closed as obvious fan favorites, both featuring a hard-hitting rock sound and vitally muscular vocal performances from Tillman.
A long encore was to follow, blending old favorites with the back half of the new album.
"Bored In The USA" was helped dramatically by the use of strings, which enlarged the piano ballad. "The Memo" returned to a Hunky Dory vibe, while single "Real Love Baby" almost felt silly surrounded by such otherwise serious material.
As Tillman had opened with the first half of the album, he ended the night with the new album's last two tracks, "So I'm Growing Old On Magic Mountain" and "In Twenty Years Or So."
"Magic Mountain" grew from a slow folk song to beautiful, theatrical proportions, Tillman looping his vocals to create strange, psychedelic textures. "In Twenty Years Or So" works as the perfect ending to all of the heavy, new material, a cathartic release through a soft ballad and gorgeous string arrangement, before "Holy Shit" ended the show as a simple, sardonic sing-along,
Leaning on the strength of the arrangements on "Pure Comedy," Father John Misy's current tour is taking the songwriter far outside of the 'folk singer' label, and continues to leave fans asking: where can he possibly go from here?
Setlist:
1. Pure Comedy
2. Total Entertainment Forever
3. Things It Would Have Been Helful To Know Before The Revolution
4. Ballad Of The Dying Man
5. Birdie
6. A Bigger Paper Bag
7. When The God Of Love Returns There'll Be Hell To Pay
8. When You're Smiling And Astride Me
9. Strange Encounter
10. Nothing Good Ever Happens At The Goddamn Thirsty Crow
11. Funtimes In Babylon
12. Nancy From Now On
13. Chateau Lobby #4 (in C for Two Virgins)
14. True Affection
15. Hollywood Forever Cemetery Sings
16. I Love You, Honeybear
Encore:
17. Bored In The USA
18. The Memo
19. Real Love Baby
20. So I'm Growing Old On Magic Mountain
21. In Twenty Years Or So
22. Holy Shit