Album Review: Bifunkal - Animals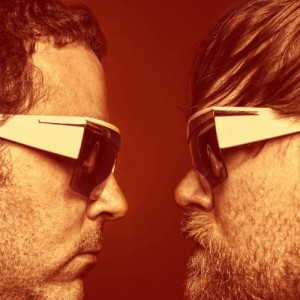 Bifunkal. The name is pretty easy to grasp and certainly is one of the most descriptive band names I've encountered.
The criminally underrated duo of Jesse Cryderman and Hershyl Edwards have been dropping funk bombs around Chicago for almost a decade. Their latest release is Animals, a collection of concise funky tunes that will no doubt expand and mature when played live.
The first time I heard Bifunkal live, I could not believe what I was seeing. No knock on Cryderman's more-than-proficient guitar work, but you can't help but be amazed by the unlikely source of the bass lines: Edwards' mouth. The self contained rhythm section of this band sets up Cryderman to explore guitar sounds using a variety of pedals and loops.
Their seminal tunes, many of which are featured on their disc Live at the Underground Wonder Bar, floored me as many were stretched out over the ten minute mark. Especially compelling was a knock-down, drag-out version of the Hall & Oates classic "I Can't Go For That."
While this type of "stunt" playing makes for a compelling live show, it is interesting to see how it sets the band up in a studio environment, where rules of engagement are a bit different.
Animals starts off with the funky "Triceratops" and gets the dance party flowing with a guest vocal from My Boy Elroy (Liquid Soul, Digital Tape Machine).
"Manimal" features some tight rhyming before drifting off into a bouncy groove. The next track, "I Alone," shows off a slower side of Bifunkal and some nice harmonica work.
"Pork Belly" just may be my favorite track on this album. Starting off slow and funky, Cryderman's work on the wah pedal gives the track plenty of texture while the vocal bass brings depth. Halfway through, keys kick in and Cryderman goes off on a controlled solo that captures the melody before he kicks into another gear and brings everything together before the song arcs back into the original groove.
"Hands Down" brings a dirty blues feel before the rousing sing-along chorus. The guitar work in this bodes well for live versions, with plenty of opportunity for the solo to blossom.
"What the Funk" is a snappy instrumental jaunt accompanied by some bluesy harmonica. "Fast Sac" stays incredibly bouncy -- so much so that it forced me to remember... "Oh, yeah, that dude's playing the bass line WITH HIS MOUTH!!" The realization made the tune that much more impressive. "Tusq Boy" has a spacey, proggy feel to it and closes out the record in fine fashion.
Bifunkal has put forth a solid effort with Animals. My advice: go see them in person and buy this album after you pick your jaw up off the ground.