Album Review | Del McCoury Band's "Del And Woody"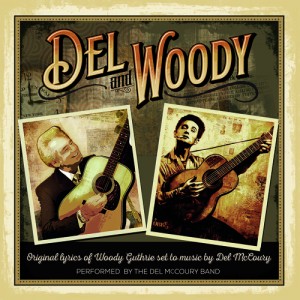 It's no secret that Woody Guthrie's estate has access to thousands of song lyrics penned by the folk pioneer. Though never set to music or preserved in recordings, some of the lyrics have surfaced on a number of releases over time, including Wilco and Billy Bragg's Mermaid Avenue records and New Multitudes, recorded by Jay Farrar, Will Johnson, Anders Parker and Jim James.
The newest archival tribute to utilize these lyrics is the most appropriate pairing yet, recorded by Del McCoury Band. The record, titled Del And Woody, debuts 12 new songs of Guthrie's, all recorded in the traditional bluegrass style that McCoury has honed over the past 50 years, a style inevitably influenced by Guthrie.
Despite the band's endless talent, the record's highlight is invariably Guthrie's lyrics, which hold a timeless authenticity that many bluegrass bands spend entire careers trying to capture.
Some songs focus on issues that would have been relevant when written in the 1940s, such as "Government Road" and "Californy Gold," yet most of the songs' subjects are as relevant today as they were in the past.
"The New York Trains" humorously describes overcrowded public transportation in the city in a way that only Guthrie could write.
"You got to change your subway train at every stop or so / and every time I come out wearing a different set of clothes," Del sings.
"Because You Took Me In Out Of The Rain" is a gorgeous, affectionate love song, proving that Guthrie's songwriting expertise extended far beyond politics.
Yet the lyrics wouldn't affect listeners this way if it weren't for McCoury's strained, high-pitched vocals, each melody sounding absolutely timeless, comparable to Del's earliest recordings with Bill Monroe. This understanding of the era of music that Guthrie helped create is essential in providing a legitimacy that the past archival collaborations lacked.
Fiddle, banjo and mandolin collide effortlessly over simple chord progressions, transporting listeners to an older, simpler time in music, one that's disappearing quickly as heroes like Del McCoury age.
If ever an artist deserved to record the songs of Woody Guthrie, this is it. An effortless, timeless yet remarkable collection of recordings, Del McCoury has successfully brought an authentic life to a set of undeniably strong lyrics that deserve to sit in every music fan's collection.
Del And Woody is out 4/15.