Album Reviews - February 2015 Releases
By: Alex Wood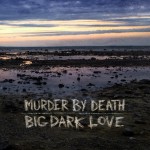 Murder By Death- Big Dark Love [2/3]
Murder By Death have developed their strange brand of alternative-country throughout the years, combining gothic and western imagery with the gruff, snarling vocals of Adam Turla, all atop a romping, crashing, energetic musical backdrop. Big Dark Love continues to develop the band's sound, but with a bit higher production value and a few odd tricks, such as horns and electronics. Otherwise, it's the same distinct songwriting, dramatic cello parts and rousing instrumentals that have gained the band such a strong following over the years.
Andrew Bird- Echolocations: Canyon [2/3]
Recorded in a massive canyon in Utah, Andrew Bird's newest release is a collection of instrumental, ambient recordings evoking the desolate-yet-beautiful natural environment. Featuring layers of violins and whistling, the album is a gorgeous listen, and revisits past instrumentals such as "Yawny At The Apocalypse" and certain moments of "I Want To See Pulaski At Night."
Father John Misty- I Love You, Honeybear [2/10]
Father John Misty's follow-up to 2012's highly acclaimed Fear Fun plays like an excellent second chapter. The singer's distinctive voice and lyrics are still there, questioning society through everyday events and observations in a style more clever than any songwriter in years. Tillman's performances are passionate and emotional, switching from humor and irony to somber and heartfelt. The arrangements match the lyrics' depth, with elaborate string arrangements and challenging melodies strung throughout the songs. There's no sophomore slump for Father John Misty, and with two consecutive releases of such high quality, J. Tillman isn't going anywhere anytime soon.
JD McPherson- Let The Good Times Roll [2/10]
JD McPherson has practically perfected the 50s rock 'n roll sound without sounding forced or fake. The recordings on his newest full-length have the energy, passion and spontaneity of Sun Records artists, yet with a flair distinctly his own. Needing little more than a couple guitars, a bass and a drum set, his band runs through a series of songs that will have you singing along and clapping on a first listen, recorded in a no-frills fashion that characterizes every little piece of the band's performance. Strong songs in a style impossible to hate, JD McPherson remains the best revivalist of this era around today.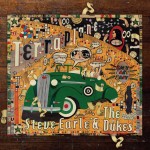 Steve Earle- Terraplane [2/17]
Steve Earle's newest full-length leans heavily on the blues as opposed to his usual country influences. Though still the brand of alternative-country one expects from the infamous songwriter, the tracks are distinctly Texas-blues songs, evoking acoustic, southern blues artists of the past. The songwriting is solid, as always, and the melodies stick with you. Acoustic and electric guitars combine with simplistic drums and bass and a whole lot of harmonica as the record moves slowly through the history of Southern blues. Still as productive and creative as ever, Steve Earle fans won't be disappointed by Terraplane.
Sonny & The Sunsets- Talent Night At The Ashram[2/17]
Sonny Smith is one of those songwriters who never stops producing music. Fortunately, unlike so many that rise from the West Coast garage-rock scene, he keeps his music fresh, constantly switching styles and reinventing himself with each release. From 2012's country album, Longtime Companion, to 2013's lo-fi garage venture Antenna To The Underworld to this year's Talent Night At The Ashram, the songwriter hasn't overstayed his welcome in any single musical style. Talent Night strays further from the "garage" genre into the "indie" genre, using a slew of keyboards and effects atop simple, catchy pop-songwriting. Along with Smith's unique vocal delivery, Talent Night features thick vocal harmonies throughout, matching the light and breezy West Coast feel of the record. A fun release from a consistently quality artist, Talent Night is yet another high-point in Smith's endless discography.
Iron & Wine- Archive Series Volume No. 1 [2/24]
Iron & Wine's Sam Beam has moved quite a ways from his first record, The Creek Drank The Cradle. No longer content with lo-fi folk recordings featuring only vocals and an acoustic guitar, Beam has stretched out into funky, layered tunes with sleek production and a gigantic cast of studio musicians. Of course, Iron & Wine couldn't create lo-fi folk records forever, yet fans view that early era as his most pure, and often as his best. The first release in his new Archive Series features additional recordings from his earliest years, during the recording of The Creek Drank The Cradle. Fans of his early work will find a lot to enjoy here, with many of the songs able to stand up to any off of his first record. With over an hour of newly released folk songs, this is a must-have for Iron & Wine fans.
Dan Deacon- Glass Riffer [2/24]
Dan Deacon creates a distinct brand of electronic music, using more layers than practically any artist in the scene to create complex compositions. Though often light-hearted, almost to the extent of being goofy, the tracks on Glass Riffer can also reach a heaviness through their deep, low synthesizer notes and electronically-altered vocals. Yet the record plays like a celebration, or a party, constantly begging the listener to dance. Too weird to be pop yet too catchy to be electronica, Deacon again finds a place entirely his own in the music scene with Glass Riffer and is all the better for it.
Screaming Females- Rose Mountain [2/24]
After 2012's Ugly, Screaming Females' Rose Mountain almost sounds pretty. The singer's wailing vocals are sometimes smoothed out, almost to a point of sounding normal. The guitars are refined to sound occasionally clean, and instruments aren't constantly battling one another as they were on the last record. The songs on Rose Mountain sound more calm and calculated, building and releasing instead of constantly going off the rails. Though turned down a notch, the album still rocks with the heaviness one expects from the band, with guitar riffs and solos a constant.
Sam Prekop- The Republic [2/24]
The Sea & The Cake's Sam Prekop has steadily released solo records over the past decade, the albums covering a wide array of styles ranging from his prior band's soft, jazz-influenced indie-rock to modular synthesizer experiments. The Republic falls in the latter category, the album consisting of a nine-piece suite and a half-dozen other songs. The tracks are restless and constantly changing, using an old-school approach to electronic music that occasionally recalls Kraftwerk.  Though far from accessible, The Republic is an exercise of creativity from the depths of the artist's abilities, something which, in and of itself, deserves respect.