Barn's Picks: Halloween Live Music In Chicago 2013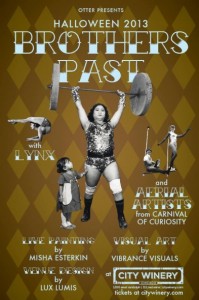 We've lined up our picks for the best live music experience in Chicago this Halloween.
Best Bet for a Freaky Good Time:
The masterminds at Otter Presents are taking over the lovely City Winery on Halloween night.  The main event features Brothers Past with support from Lynx.  But that's not all....  Yes, there's a costume contest (with prizes), but there will also be lasers, circus performers, aerialists and live art.
This is the place to be for a one of a kind, all senses, immersive Halloween experience.
Southern Gothic Horror:
Not sure there'll be much as much Halloween festivities at the Vic, but Drive-By Truckers always have a bit of scary Southern culture to share with audiences.
Cover Time:
What's Halloween without musical costumes?  Tonic Room (billing themselves as Illinois fourth most haunted bar) will be hosting a lineup of area bands, including Rattled, a tribute to the Traveling Wilburys by Chicago's Shams Band, Steven Leaf as Tom Petty & The Heartbreakers and Magic Box.
The tricks and treats continue Martyrs where Diana & the Dishes will cover MJ's Thriller, The Lincoln Squares will cover Nevermind, and Terrible Spaceship will offer their multimedia War of the Worlds show, featuring lights, costumes and much more.
South Side Spooks:
Our friends in Brown Bag will be on their home turf in Evergreen Park at Harte's.  Costume Contest, prizes and some fun covers are on the menu.
As always, check out The Barn's Live Music Calendar for more of our recommendations.