Book Review & Playlist | On Highway 61 By Dennis McNally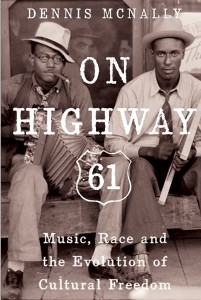 On Highway 61: Music, Race and the Evolution Of Cultural Freedom - Dennis McNally
By now, everybody knows that the story of America is the story of race.  So, too, is the story of its music… perhaps even more overtly. Onetime Grateful Dead publicist and historian Dennis McNally takes an uncompromising look at how various ingredients fall into the melting pot of American music -- mixing, matching and innovating all along the way up and down the legendary Highway 61.
The goal here is not to reveal what gave birth to rock-n-roll, although we go significantly down the path to show how we arrived at its origins.  Rather, it explores the underlying rebellion and yearning for freedom that gave a voice to the American musical form, whether it be via rock, folk, jazz or blues.
It shows way the American experience becomes manifest in its art – from On Walden Pond and the works of Mark Twain, to the music that emerged from slaves and the post-Civil War South.  Highway 61 is the literal and metaphoric connective tissue that allowed these thoughts to propagate and begin to form regional variations and permutations.
It's no wonder that white people began to respond to and ultimately appropriate elements of the black culture. Everybody wants their voice to be heard and there is no truer expression than through music.
If nothing else, the book is a wonderful biography of Bob Dylan up until his own Highway 61 Revisited album, albeit with an extremely long and circuitous preamble.  But by the time the Dylan section comes around (the book's third and final part), suddenly everything seems to click.  The ways that Dylan was inspired by, and borrowed copiously from, the decades of musical and cultural turmoil that preceded the start of his career, allowed him to become the true inflection point.
I was so inspired by what I learned in this volume, that I went back and read it a second time, this time identifying key musical pieces throughout this timeline and creating a nearly 14 hour, 223 song playlist that follows the story that McNally tells through many of the songs referred to throughout the text.
Granted the story begins before the history of recorded music, so a few modern substitutes were used, but using this as a guide should approximate the book's themes musically and be a more than adequate audio companion.