Chart: 64 Vintage Guitars Played By Your Favorite Rock Stars
Pop Chart Lab makes some of the coolest looking charts / prints / posters that I've seen.  Their design philosophy employs a simple, clean aesthetic.  I'm particularly happy to see their music-related efforts pop up every now and then.  Though this print doesn't feature an Irwin or Languedoc, there are pleny of iconic guitars (and basses) from many of the best in the business, basically listed chronologically for almost 100 years.  As they describe on their site:
Rendered in exquisite detail is everything from Leadbelly's famed 12-string to Woody Guthrie's Fascist-killing machine to multi-necked monsters to an axe shaped like an axe. Containing representations of the famed instruments that have brought countless headbanging riffs and wailing solos into the world, this print is guaranteed to up the rocking of any wall to 11.

Each print is signed by the artists and numbered from a first printing of 500.

Using 100 lb. archival recycled stock certified by The Forest Stewardship Council, this poster is pressed on an offset lithographic press with vegetable-based inks in Flatlands, Brooklyn.
The print is $27 and is available on their site.  See below for an inventory of the guitars featured on the print.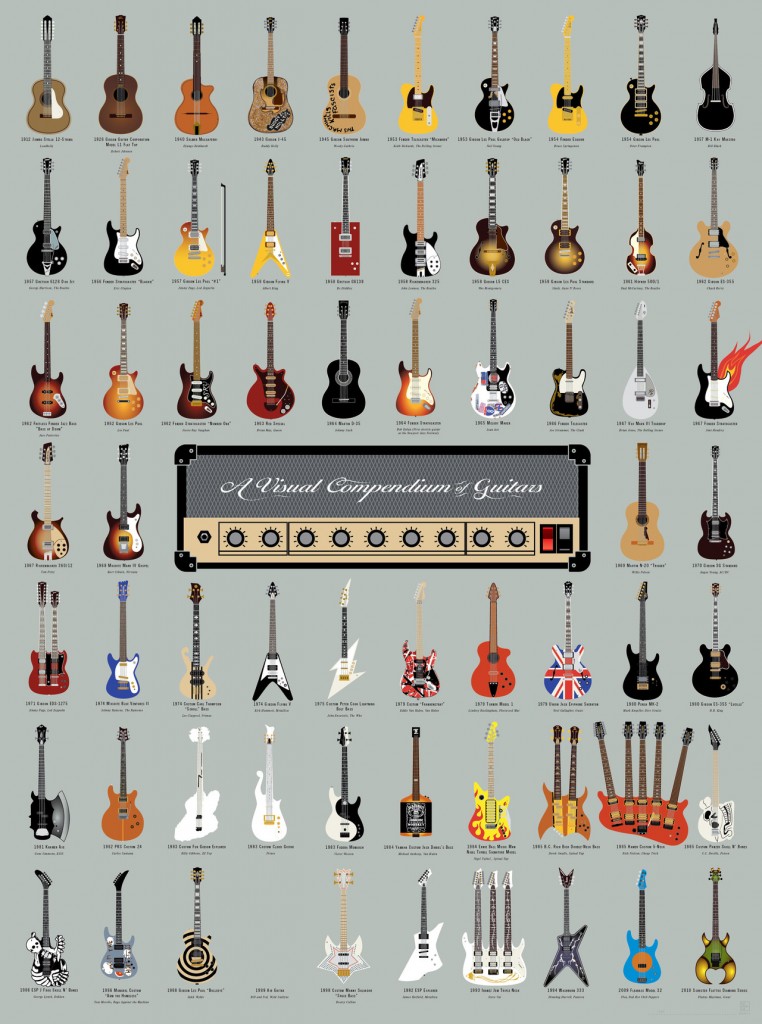 1912 Jumbo Stella 12-String, Leadbelly
1926 Gibson L1 Flat Top, Robert Johnson
1940 Selmer Maccaferri, Django Reinhardt
1943 Gibson J-45, Buddy Holly
1945 Gibson Southern Jumbo, Woody Guthrie
1953 Fender Telecaster "Micaweber", Keith Richards
1953 Gibson Les Paul Goldtop "Old Black", Neil Young
1954 Fender Esquire, Bruce Springsteen
1954 Gibson Les Paul, Peter Frampton
1957 M-1 Kay Maestro, Bill Black
1957 Gretsch 6128 Duo Jet, George Harrison
1956 Fender Telecaster "Blackie", Eric Clapton
1957 Gibson Les Paul "#1" with bow, Jimmy Page
1958 Gibson Flying V, Albert King
1958 Gretchen G6138, Bo Diddley
1958 Rickenbacker 325, John Lennon
1958 Gibson L5 CES, Wes Montgomery
1959 Gibson Les Paul Standard, Slash
1961 Hofner 500/1, Paul McCartney
1962 Gibson ES-355, Chuck Berry
1962 Fretless Fender Jazz Bass "Bass Of Doom", Jaco Pastorius
1962 Gibson Les Paul, Les Paul
1962 Fender Stratocaster "Number One", Stevie Ray Vaughan
1963 Red Special, Brian May
1964 Martin D-35, Johnny Cash
1964 Fender Stratocaster, Bob Dylan
1965 Melody Maker, Joan Jett
1966 Fender Telecaster, Joe Strummer
1967 Vox Mark VI Teardrop, Brian Jones
1967 Fender Stratocaster, Jimi Hendrix
1967 Rickenbacker 360/12, Tom Petty
1968 Mosrite Mark IV Gospel, Kurt Cobain
1969 Martin N-20 "Trigger", Willie Nelson
1970 Gibson SG Standard, Angus Young
1971 Gibson EDS-1275, Jimmy Page
1974 Mosrite Blue Ventures II, Johnny Ramone
1974 Custom Carl Thompson "Scroll" Bass, Les Claypool
1974 Gibson Flying V, Kirk Hammett
1975 Custom Peter Cook Lightning Bolt Bass, John Entwhistle
1979 Custom "Frankenstrat", Eddie Van Halen
1979 Turner Model 1, Lindsey Buckingham
1979 Union Jack Epiphone Sheraton, Noel Gallagher
1980 Pensa MK-2, Mark Knopfler
1980 Gibson ES-355 "Lucille", B.B. King
1981 Kramer Axe, Gene Simmons
1982 PRS Custom 24, Carlos Santana
1983 Custom Fur Gibson Explorer, Billy Gibbons
1983 Custom Cloud Guitar, Prince
1983 Fodera Monarch, Victor Wooten
1984 Custom Jack Daniels Bass, Michael Anthony
1984 Ernie Ball Music Man Nigel Tufnel Signature Model, Nigel Tufnel
1985 Rich Bich Double-neck Bass, Derek Smalls
1985 Hamer Custom Five Neck, Rick Nielsen
1985 Custom Panzer Skull N Bones, C.C. Deville
1986 ESP J Frog Skull N' Bones, George Lynch
1986 Mongrel Custom "Arm The Homeless", Tom Morello
1988 Gibson Les Paul "Bullseye", Zakk Wylde
1989 Air Guitar, Bill and Ted
1998 Custom Manny Salvador "Space Bass", Bootsy Collins
1992 ESP Explorer, James Hetfield
1993 Ibanez Jem Triple Neck, Steve Vai
1994 Washburn 333, Dimebag Darrell
2009 Fleabass Model 32, Flea
2010 Schecter Flattus Diamond Series, Flattus Maximus