Chris Thile Shares New Cubs Song, Other Highlights From Chicago Prairie Home Companion Stop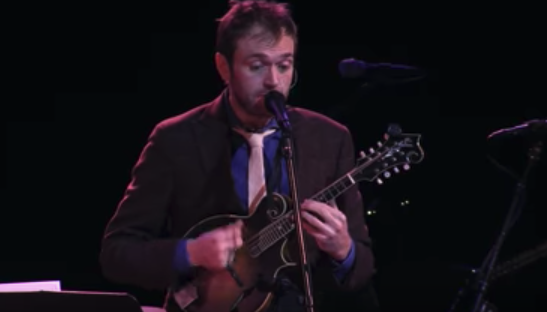 Chris Thile brought a traveling version of his A Prairie Home Companion radio show to Chicago's Symphony Center on Friday Night.
As is typically the case, he introduced a new song -- the topic of this song was appropos for the location (and his lifelong Cubs fandom).
It's called "We, Joe Maddon" and it explores the decision making of the Cubs skipper and relates it to that which we all must make.  In a typical stroke of musical genius, the song is set during the World Series Game 7 and is in 7/4 time.  He even captures the emotions of transitioning from World Serie glory to election results less than a week after.  We are all Joe Maddon.
The great Andrew Bird and Laura Marling rounded out the episode's musical guests.  They have also shared a video of one of Marling's tunes.
There's more video at the A Prairie Home Companion YouTube page.  If not visual inclined, listen to the whole thing (it is a radio show after all) at the show's page, and you'll also find snippets of the house band taking on Led Zeppelin (in the birthday's segment), Wilco and Willie Dixon's "If The Sea Was Whiskey"
But if you're here for the videos, the1stMikeC rarely misses a local Andrew Bird performance, so he got some great captures as well.