Elton John Philharmonica Freedom - 2/5/72 with Royal Philharmonic: Stream and Download
There is something special when the worlds of rock and classical music collide. After months of preparation, the end products are only performed a handful of times, creating something truly unique for the lucky attendees. The Barn will feature a different rock / symphony fusion weekly over the next several weeks in a new feature: Symphony Sunday.
Here's a "liberated bootleg" with Elton performing at the height of his early seventies powers, cheekily named Philharmoic Freedom.  It's a real nice setlist with a smattering of hits and deep cuts.  These tunes feel right at home with John's piano and the Royal Philharmonic.  If you download the zip, there's even some nice album artwork included from the bootleg release.
Download Entire Set (.zip mp3)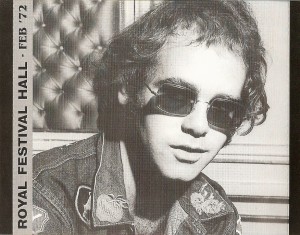 Setlist
Elton John and the Royal Philharmonic
2/5/72 Royal Festival Hall, London, England
Your Song
Take Me to the Pilot
The Greatest Discovery
Sixty Years On
The King Must Die
Indian Sunset
Border Song
Madman Across the Water
Burn Down the Mission
Goodbye