Symphony Sunday: Trey Anastasio and the Baltimore Symphony 5/21/09 Stream and Download
There is something special when the worlds of rock and classical music collide. After months of preparation, the end products are only performed a handful of times, creating something truly unique for the lucky attendees. The Barn will feature a different rock / symphony fusion weekly over the next several weeks in a new feature: Symphony Sunday.
Trey has slowly built up quite a repertoire that can be played with the symphony over the years, culminating in two performances in 2009: one at Carnegie Hall and one with the Baltimore Symphony.  I prefer the sound on the recording of the Baltimore show, so I'm featuring that as the stream and download.  The song lists are actually very similar, but New York was treated to the orchestral debut of "You Enjoy Myself", which I've added as a bonus video below.  The trombone laying down the "Boy Man God Shit" part is absolutely priceless.
The Stream (Click To Activate)

Download entire show (.zip mp3)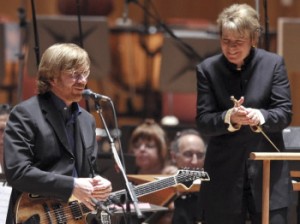 Setlist
Trey Anastasio and the Baltimore Symphony Orchestra
5/21/11 Meyerhoff Symphony Hall, Baltimore, MD
The Divided Sky, Brian and Robert, The Inlaw Josie Wales,Water in the Sky, Pebbles and Marbles, First Tube, Time Turns Elastic, Let Me Lie, Guyute, If I Could
You Enjoy Myself with New York Philharmonic - Carnegie Hall - 9/12/09