FULL SHOW AUDIO & VIDEO | Trey Anastasio Performs 8 Songs Acoustic For First Time In Northampton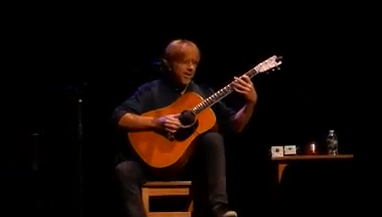 Trey Anastasio kicked off a short run of solo and acoustic shows (the first time the format has been used exclusively by the guitarist) last night in Northampton, MA.
Wanting to take advantage of the arrangement, Anastasio debuted 8 songs in the acoustic arrangement, including a pair from 2016's Big Boat, and "Tree" from Blue Ash & Other Suburbs in its first public performance anywhere.  Check the full phish.net setlist below for all the new arrangements.
Via the industriousness of Phish fans, audio is already avaialble on bt.etree.org (via Clinton Vandalis) and a full video playlist has been shared on YouTube (via aerofan2007).  Here's a sample from both:
Download Complete Show (mp3 .zip)
TREY ANASTASIO, WEDNESDAY 03/08/2017

SET 1: Discern [1], Farmhouse [2], Brian and Robert [2], Theme From the Bottom [2], The Horse [2] > Silent in the Morning [2], Frost [2], Anything But Me [2], Limb By Limb [2], Walfredo [1], Stealing Time From the Faulty Plan [2], All of These Dreams [1], Winterqueen [1], Steam [1], Heavy Things [2], Summer of '89 [2],Miss You [1], Architect [2], Tree [3], Water in the Sky [2], Cavern [2] > Backwards Down the Number Line [2], More [1]

ENCORE: Sample in a Jar [2], Wilson [2], Bouncing Around the Room [2]

[1] Trey solo acoustic; first acoustic performance by Trey.
[2] Trey solo acoustic.
[3] Debut; Trey solo acoustic.

This entire show was performed by Trey solo acoustic. This show featured the debut of "Tree" and the first Trey acoustic performances of "Discern," "Walfredo," "All of These Dreams," "Winterqueen," "Steam," "Miss You," and "More." "Walfredo" was dedicated to Raul Rekow and "Summer of '89" was dedicated to Trey's wife, Sue.