Gary Burton In The Jazz Underground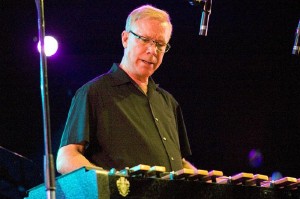 This installment of
Notes From The Jazz Underground
features the playlist based on the January 24th show.
Here's what I love about Jazz Underground: I get to discover musicians that have been hiding in plan site forever.
This show was partially a tribute to Gary Burton for his birthday.  I admit, I'm no Gary Burton expert.  In fact, I couldn't even have told you that he played vibraphone.  But after listening to this playlist and doing a little bit of research, I'm fascinated by his recorded output and his life story.
The only snag, Burton's 70s / 80s label, ECM, doesn't "do" Spotify, so it's definitely worthwhile to check out the YouTube videos for the two cuts from this era below -- an unbelievable marriage of jazz and psychedelia.
As usual, NFTJU host Paul Abella complements some Burton with some wild and weird material including Ozric Tentacles, new stuff from Joe DeRose, and a sweet jam from Freddie Hubbard and Stanley Turrentine.  There's some jazz / jam crossover stuff here, too, like Snarky Puppy and locals Spare Parts.
Of particular note, the Donny Hathaway tune is a fine example of him showing off his live band.  Paul says, "while usually those kinds of things are boring as hell, with a band as good as Hathaway's, it funky and brilliant."
Notes From The Jazz Underground runs Friday nights on WDCB 90.9 FM.
Complete Playlist
Track - Artist - Album
| | | |
| --- | --- | --- |
| Coily | Ozric Tentacles | Waterfall Cities |
| New Frontiers | Joe DeRose and Amici | Peace Streets |
| Led Boots | Jeff Beck | Wired |
| Nick's Tune | M13 | One Human, Too Human |
| Bulldog | Frank Macchia | Grease Mechanix |
| Hornets | Freddie Hubbard & Stanley Turrentine | In Concert |
| The Beach | Gary Burton | Lofty Fake Anagram |
| The Raven Speaks | Gary Burton & Keith Jarrett | Gary Burton & Keith Jarrett |
| Henninger Flats | Gary Burton | Throb |
| | | |
| Four in One | Chick Corea & Gary Burton | Native Sense |
| Como En Vietnam | Gary Burton | Times Square |
| Walter L | Gary Burton | Quartet Live |
| Open Your Eyes, You Can Fly | Gary Burton | The New Quartet |
| Voices Inside (Everything Is Everything) | Donny Hathaway | Live! |
| Gone Under | Snarky Puppy feat. Shayna Steele | Family Dinner |
| Stone Flower | Antonio Carlos Jobim | Stone Flower |
| Bundled | Don Peretz & Oz Noy | Manufactured Region |
| Thanks Mr. Brown | Spare Parts | Spare Parts |