Interesting Lockn' Stats & A New Idea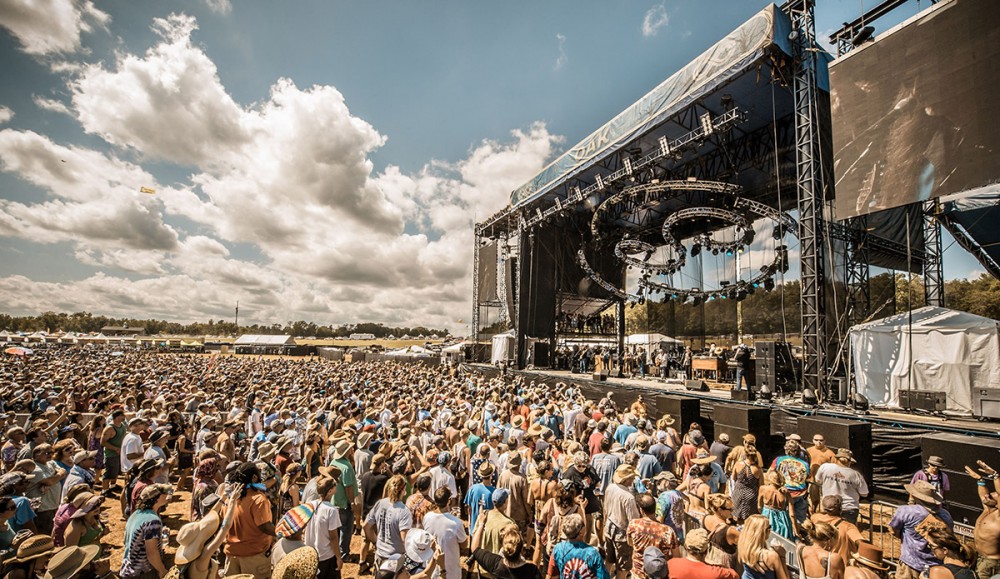 Today marks the start of the fourth Lockn festival, and we couldn't be more excited about what's about to go down in Virigina.
Somehow, Peter Shapiro and his team just knows what a certain type of fan wants to hear, and just delivers for four straight days, creating a festival lineup that stands alone.   We'll have folks on the ground covering the festival and will be streaming sets from the Home Office all weekend long.
But the festival has not been without change since its inception in 2013.  Originally called the Interlocken Festival, it was shortened for reasons most likely related to how it appears on t-shirts and marketing materials.  This year, the event moves from early fall to late summer, and probably has its most significant headliner yet: the jamband juggernaut Phish plays non-consecutive nights.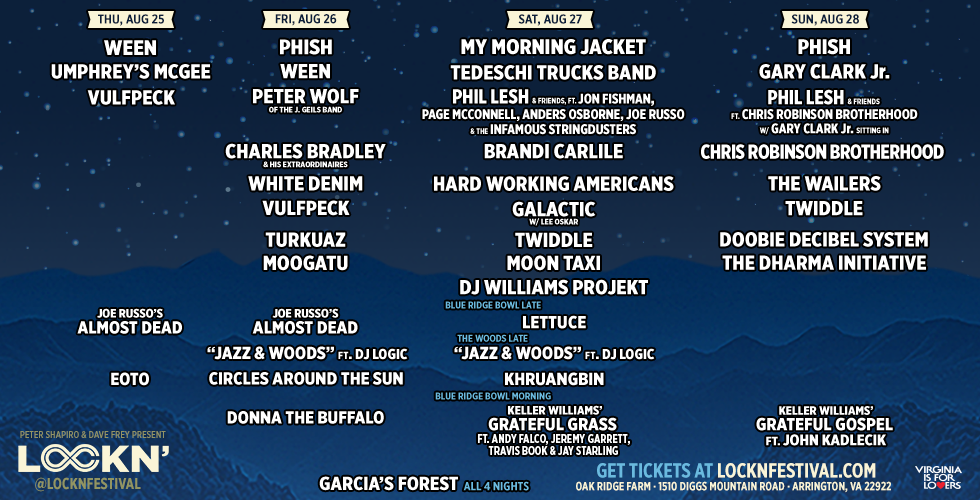 So you might expect record crowds, right?
According to Nelson County, VA's public website, the most recent changes (and lineup) may not have a corresponding bump in attendance.
They expect 25,000 Lockn' Festival attendees this year, the same as its inaugural year. But they also provide a few other interesting facts:
Compared to other multi-day festivals, Lockn' sells 4 times (almost 12%) the average number of VIP tickets. Lockn' patrons spent 2.1 times the norm and chose higher quality, local concession products.

Ticket Purchasers – 64.3% are from Out-of-State, and 35.7% are from Virginia, including patrons from all 50 states and international visitors.

Top States of Purchasers – include Virginia, North Carolina, South Carolina, Maryland, Pennsylvania, Georgia, New York, Tennessee, Florida and Ohio.

Top Metro Areas – DC/Northern Virginia, Central Virginia, Virginia Beach, VA, Charlotte, NC, Raleigh-Durham, NC, Atlanta, GA, Asheville, NC, Wilmington, NC, Baltimore, MD, Charleston, SC, Nashville, TN, Lexington, KY, Knoxville, TN.
Which, taken all together, tells us quite a bit.  They draw from many metro areas, but primarily those within a few hours drive of the festival site.  These camp-in-a-field festivals require lots of prep and equipment.  Flying in, even for a lineup as tantalizing as this, can end up being costly and logistically improbable.
Meanwhile, consecutive Phish-only shows in Chicago this summer drew 40,000 per night.  It seems indicative of a larger trend amongst fans of this music, and even music fans in general.  Bonnaroo's attendance was at an all time low this year while the now four day Lollapalooza sold out before any artists were announced.
Clearly, people are beginning to prefer VIP treatment and friendlier accommodations.  What was once the realm of college students doing anything just trying to make it from show-to-show is now the leisure time of those with disposable income and a preference for creature comfort.
So instead of trying to bring the people to Lockn', why not try to bring Lockn' to the people?
Who remembers a little thing called Fare Thee Well?  Another Shapiro joint, there was unprecedented demand for 70,000 people over three days in Chicago.
Obviously the circumstances were a little different, but imagine a Lockn'-style lineup in Soldier Field over a holiday weekend.  That most likely means Phish, some combination of Grateful Dead acts, maybe a supergroup, maybe a "tribute" set, and a rock solid undercard.  They set up shop and get creative with the space in and around the stadium.  The clubs around town are filled once again with dozens of late night musical options. 
Fans stay in hotels or sleep in their own beds -- explore the city during the day.  Fare Thee Well II: Fare Thee Weller.
The time has come for a massive city jam festival (especially as once significant properties in the space -- GoTV, Allgood -- have fallen off the map) and Shapiro is the man to do it.
Until then, enjoy Lockn'.  I know I will. 
Full Webcast Schedule:
LOCKN' Festival Webcast Schedule
THURSDAY:
Vulfpeck – 7:30pm ET
Umphrey's McGee – 8:30pm ET
Joe Russo's Almost Dead – 1:00am ET
FRIDAY:
Donna the Buffalo – 11:00am ET
Moogatu – 12:00pm ET
Turkuaz – 12:30pm ET
Vulfpeck – 1:30pm ET
White Denim – 2:30pm ET
Charles Bradley & His Extraordinaires – 3:30pm ET
Ween – 6:00pm ET
Phish – 8:30pm ET
Joe Russo's Almost Dead – 1:00am ET
SATURDAY:
Keller Williams' Grateful Grass – 10:30am ET
DJ Williams Projekt – 12:00pm ET
Moon Taxi – 12:30pm ET
Twiddle – 1:30pm ET
Galactic w/ Lee Oskar – 2:40pm ET
Hard Working Americans – 4:10pm ET
Brandi Carlile – 5:40pm ET
Phil Lesh & Friends (ft. Jon Fishman, Page McConnell, Anders Osborne, Joe Russo & The Infamous Stringdusters) – 6:40pm ET
Tedeschi Trucks Band – 8:20pm ET
My Morning Jacket – 10:20pm ET
Lettuce – 1:00am ET
SUNDAY:
Keller Williams' Grateful Gospel – 10:30am ET
The Dharma Initiative – 12:00pm ET
Doobie Decibel System – 12:30pm ET
Twiddle – 1:00pm ET
The Wailers – 2:00pm ET
Chris Robinson Brotherhood – 3:00pm ET
Phil Lesh & Friends (ft. Chris Robinson Brotherhood w/ special guest sit-in by Gary Clark Jr.) – 4:45pm ET
Gary Clark Jr. – 6:15pm ET
Phish – 8:30pm ET