Lineup Released, New Location For Whippersnap Music & Arts Festival 2013
We had a ball at last year's Whippersnap Festival, a fine mid-summer destination which married great regional talent with an emphasis on improv with some top notch national headliners.  The festival is back in 2013, though moving closer to Chicago, at HideAway Lakes campground in Yorkville, IL.  The lineup was released over the weekend on their facebook page.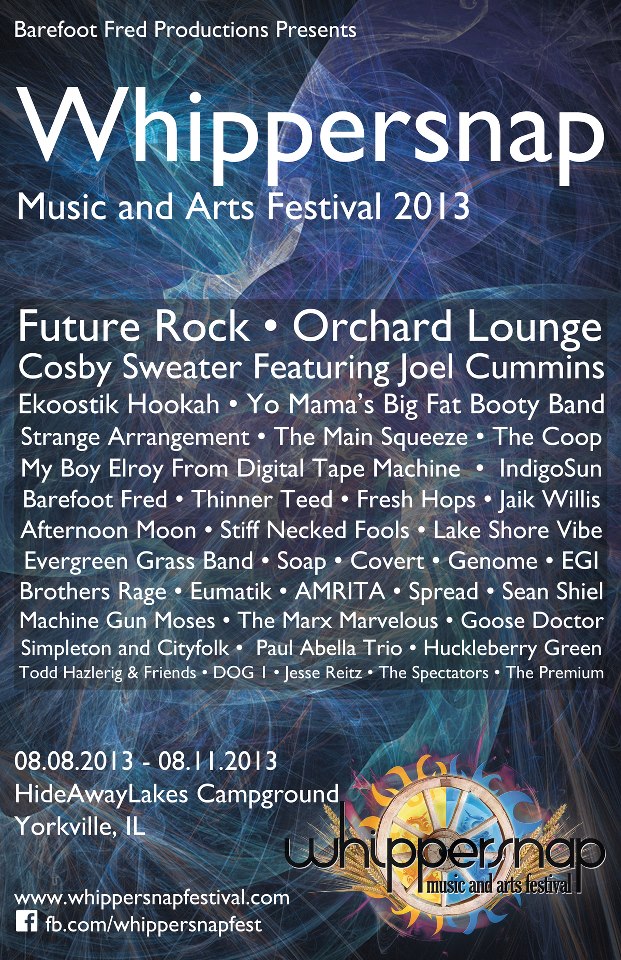 Future Rock and Orchard Lounge topline the event, and Umphreys' keyboardist Joel Cummins will mark his second year at the fest (this time with Cosby Sweater), but like last year, we're also really excited about the undercard.  Yes, you read correctly, this is the first announced date for Barn favorites Strange Arrangement since their hiatus last fall.  That news comes with equal parts excitement and relief.
We're also heavily tracking Main Squeeze (who we wouldn't be surprised to see headlining fests like this by 2014) and have recently been indoctrinated into world of Brothers Rage.  So pleased to see friends like Fresh Hops, Paul Abella Trio and Goose Doctor round out a bill that features a metric ton of regional talent.
And unlike last year, there's no danger of missing your favorite acts.  A tweaked format allows for two large stages for electric bands and a late night stage that with acoustic music after midnight.
The festival takes place the weekend of August 8th to the 11th.  The new facility promises...
Hot Showers, Laundry Facilities, Flushing Toilets, Free WiFi, Tons of shaded camping w/ electrical outlets available at many sites. A range of RV spots from primitive, basic electric and full hook ups w/ electric, water and sewage. The park has many water features.. 2 lakes that can be fished without license w/ a bait shop on site, 5,000 ft. of frontage on the Fox River and our personal favorite, a spring fed Olympic sized swimming pool that has views of the main stage. We take great pride in catering to those with children and our Lil Snap fun zone will feature a playground complete with slides, swings and monkey bars. There is a camp store for all your needs, craft beer vendors and food options will be available for the carnivores and vegetarians alike.
The promoters have promised a handful of lineup additions in coming weeks, so stay tuned.