Mr. Blotto Bring Out Their "Toys In The Attic" At Blottopia XII 7/23/11: Setlist & Media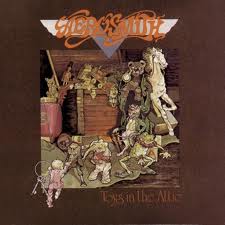 Blotto fans braved strong storms  and were rewarded for their loyalty with another unique experience last weekend at Elgin's Vasa Park.
For their part, Mr. Blotto did not disappoint, turning in a set capped with a couple of Zappa tunes on Friday night, programming some of Chicago's finest jambands on to warm up the crowd on Saturday afternoon, and, in what has become one of the bands most endearing traditions, following Saturday night's two sets with a cover album as the event's encore.
This year, they selected Aerosmith's 1973 classic Toys in the Attic, and reports from the fest indicate that they rose to the occasion and nailed every nuance of this driving rock album.
Stay tuned, we'll try to get complete audio as soon as it's available -- you may buy the CDs from Blotto Live.  As for now, check the video below and witness the transformation of Paul Bolger into Steven Tyler, not the weird old lady you'll see on TV these days, but the swaggering rock star who prowled stages in a drugged out haze in the 70's, on "You See Me Crying".
And a great photo montage of shots from the festival with a nice live action vid of "Sweet Emotion" tucked in the middle of it.
Setlists
Friday, 7/22/2011
It's Surreal Goodtime, Can't Go Back, Kelly Marie, Rebel Music, That's What I Say, Appalachian Song, Sister Rosie, Terrapin Station, Floating Bridges, Clampdown World, Organ Grinder, Hi-V, Marrakesh Express, We're So Happy
Encore: Peaches En Regalia, Joe's Garage
Saturday 7/23/2011
One: Here We Are, Cotton Fields, People In The Middle, She's A Woman, Rattle My Cage, Negril Song, 1977, Jam
Two: One By Night, Two By Day, Gettin It On, Triolet, Nebraska, Electric Feel, Workin' For The Man
Encore: (Aerosmith's Toys In The Attic) Toys In The Attic, Uncle Salty, Adam's Apple, Walk This Way, Big Ten Inch, Sweet Emotion, No More No More, Round And Round, You See Me Crying, One Puff
There were also a number of glowing reports from the undercard. Paradise Waits, a Chicago based band best known for Dead covers, played their first ever set of all originals to a very receptive crowd. Fareed Haque and his Math Games ensemble proved yet again why hippies love jazz.