Not Necessarily Jazz Underground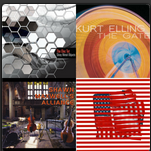 This installment of
Notes From The Jazz Underground
features the playlist based on the Februrary 14th show.
The Valentine's Day show wasn't exactly about love, in fact it wasn't necessarily about anything.
NFTJU host Paul Abella interviewed Shawn Maxwell about his new band -- a 10 piece band with two bassists, two french horns, two saxophones -- don't be surprised if you hear some Zappa voicings in there.
Also on the new pile, Dave Miller's new group, Lonesome Limos gets a feature. Dave's old band, Algernon, bore a striking resemblance to Tortoise, so Abella decided to put his new group next to Tortoise to see how it'd sound. It worked.  Unfortunately, since it's not available on Spotify, it's embedded as it's own SoundCloud link below.
This playlist also included birthday shout outs to Henry Threadgill and Maceo Parker.  About that Steve Reich finale… Paul's advice, "don't decide to eat some mushrooms before you play that one. Please."
Notes From The Jazz Underground runs Friday nights on WDCB 90.9 FM.
Complete Playlist
| | | |
| --- | --- | --- |
| TRACK | ARTIST | ALBUM |
| Don't Turn Around | Henry Threadgill & Make a Move | Everybodys Mouth's A Book |
| Run | The Elec Tet | Shiny Metal Objects |
| Samurai Cowboy | Kurt Elling | The Gate |
| Fun Five Funk | Shawn Maxwell's Alliance | Shawn Maxwell's Alliance |
| From Parts Unknown | Shawn Maxwell's Alliance | Shawn Maxwell's Alliance |
| Bitty Bitty Beep | Shawn Maxwell's Alliance | Shawn Maxwell's Alliance |
| Little Ninja Groove | Shawn Maxwell's Alliance | Shawn Maxwell's Alliance |
| Eros | Tortoise | Standards |
| Your City's On Fire | Lonesome Limos | Lonesome Limos |
| Four Play | Fred Wesley and the Horny Horns featuring Maceo Parker | A Blow For Me, A Toot To You |
| Soul Power '74 | Maceo and the Macks | The J.B.'s: Funky Good Time |
| Pass the Peas | The J.B.'s | Funky Good Time |
| Next Door | Erik Truffaz | The Walk of the Giant Turtle |
| Technicolor Nightmare | Christian McBride | Live at Tonic |
| Wake Up Everybody | John Legend & The Roots | Wake Up! |
| It's Gonna Rain, pt II | Steve Reich | Early Works |