Notes From The Jazz Underground Teaches Us About Sir Duke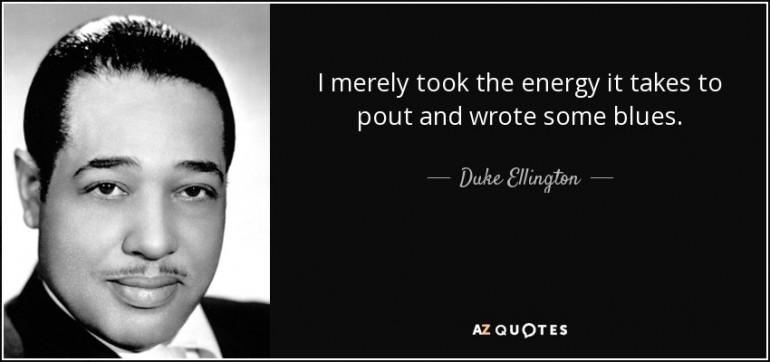 This edition of  Notes From The Jazz Underground was culled from the April 29th broadcast.
The broadcast version fell on Duke Ellington's birthday.  But just like everything else NFTJU, host Paul Abella doesn't play it straight.  Offering equal parts Ellington oddities, oddball covers and a straight-up jazz history lesson this week.  He offers a bunch of notes from this playlist.
Tracks from Tortoise, Medeski Martin & Wood and Mary J. Blige are sourced from a disc called Red Hot and Indigo, put out by the Red Hot Foundation.  Soon, they'll release an indie-flavored Grateful Dead tribute, but they started off doing totally odd jazz tributes by modern artists, with all of the profits would going to AIDS research. The Ellington one was legitimately strange because these tunes, for the most part, don't work as "pop tunes" for Natalie Merchant or Sheryl Crow (or whoever) to take a crack at. So, it's mostly an MMW disc with some other goodies thrown in. And it's damn good.
Russell Gunn's Ethnomusicology was the first band to get the Jazz/Hip-Hop thing right, and the version of "Caravan" is SMOKIN'. These days, he's doing a jazz/Black Sabbath thing which is also pretty cool.
Steely Dan's version of East St. Louis Toodeloo is always a great listen.
Most of the rest is Ellington at his finest:
Duke as avant-garde big band arranger on "The Biggest and Busiest Intersection" (about what a street intersection might look like in Heaven)
"The Clothed Woman" has him playing pretty strange
"Wig Wise" proved that even in his 60's, the dude could have taken on any jazz pianist from any point in history and given them a run for their money.
"The Deep South Suite" and the "Liberian Suite Dances" are long form pieces
"Jack the Bear" and "The Flaming Sword" come from the Blanton-Webster edition of Ellington's group from 1940-41. Quite seriously, possibly the greatest big band in jazz history. Listen to the contrasts on "Jack the Bear". The trombone section was nicknamed "God's Trombones."
The whole thing closes out with one of Ellington's earliest recordings from back in the mid 20's.
Duke is ancient. And he still sounds fresh in 2016.
Red Hot + Indigo: Do Nothin' Till You Hear From Me - Mary J. Blige
Red Hot + Indigo: Medeski Martin & Wood - Acht O'Clock Rock
Complete Playlist
| | | |
| --- | --- | --- |
| Track | Artist | Album |
| Sir Duke | Stevie Wonder | Music in the Key of Life |
| Wig Wise | Duke Ellington | Money Jungle |
| Acht O'Clock Rock | Medeski, Martin & Wood | Red Hot + Indigo |
| Blue Pepper | Charlie Hunter & Scott Amendola | Ellington |
| The Biggest and Busiest Intersection | Duke Ellington | The Second Sacred Concert |
| Main Title/Anatomy of a Murder | Duke Ellington | Anatomy of a Murder |
| The Clothed Woman | Duke Ellington | Historical Jazz Recordings 1947-48 |
| Mount Harrissa | Duke's Motivation | The Other Side of Ellington |
| East St. Louis Toodeloo | Steely Dan | Pretzel Logic |
| A Little Max (Parfait) | Terri Lyne Carrington | Money Jungle: Provacative In Blue |
| Deep South Suite pts 1-4 | Duke Ellington | The Chronological Duke Ellington: 1946 |
| Thank You Boys | Jane's Addiction | Nothing's Shocking |
| Caravan | Russell Gunn | Ethnomusicology, Volume 2 |
| Do Nothin' Til You Hear From Me | Mary J. Blige | Red Hot + Indigo |
| Didjeridoo | Tortoise | Red Hot + Indigo |
| Fleurette Africaine | Gary Burton Quartet | Lofty Fake Anagram |
| Low Key Lightly | Rebecca Martin | When I Was Long Ago |
| Liberian Suite: Dance No. 1 | Duke Ellington | Ellington Uptown |
| Liberian Suite: Dance No. 2 | Duke Ellington | Ellington Uptown |
| Liberian Suite: Dance No. 3 | Duke Ellington | Ellington Uptown |
| Liberian Suite: Dance No. 4 | Duke Ellington | Ellington Uptown |
| Liberian Suite: Dance No. 5 | Duke Ellington | Ellington Uptown |
| Jack the Bear | Duke Ellington | Never No Lament |
| The Flaming Sword | Duke Ellington | Never No Lament |
| Chicago Stomp Down | Duke Ellington | The Okeh Ellington |