Old Shoe's Family: CD Preview and Release Party Ticket Giveaway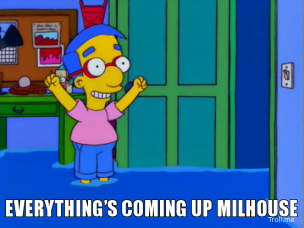 As an unabashed Simpsons fan, one of my favorite pop-cultural catch phrases is the the jubilant "Everything's Coming Up Milhouse!"
Originally uttered by Bart's nerdy blue-haired buddy, it's just the perfect thing to say when you feel like everything is coming together and working out perfectly.
I'm happy to report that everything has been "coming up Milhouse" for the guys in Chicago's Old Shoe.  Just think of what's transpired in their world just over the last couple of months:
The band's namesake festival, Shoe Fest, an end-of-summer gathering of national and local roots, Americana and other more organic leaning musicians and fans was a smashing success.  This year's event, the third annual, drew over 1500 attendees and plans are already underway for a fourth edition.
They even got to collaborate with the talented Allie Kral at this year's festival, held at at the bucolic Camp Shaw-waw-nas-see in Manteno
They turned heads as a part of a mega-bill in Aurora headlined by Bruce Hornsby and Greensky Bluegrass
They managed to exceed their crowd sourcing goal via the Kickstarter platform, raising over $15000 in exchange for speciality merchandise and experiences for their fans.  The money will be used to fund the recording, packaging, promotion and touring behind their latest record, Family
They've got a big headlining show at Martyrs in Chicago on October 11th to celebrate the album's release which will also feature performances from EGi and Tauk
Of course, none of this would be possible without Family, figuratively and literally, which makes that the perfect title for this work.  And while Family won't be unveiled until next week, we were able to get a sneak peak of a couple tracks and are happy to share them with you
Although the band's last album was entitled Let Yourself In, the song "Let Yourself In" debuts on this release.  They use the studio to their advantage, dialing up some cool effects and using Joe Day's synths to punctuate a some jammy instrumental passages.
[mp3j track="Let Yourself In@http://www.thebarnpresents.net/music/oldshoe/family/03LetYourselfIn.mp3"]
The title track hooks on to a slinky disco groove right away and showcases some of Shoe's soul and pop influences in the vocals as well.
[mp3j track="Family@http://www.thebarnpresents.net/music/oldshoe/family/05Family.mp3"]
The rest of the disc shows tremendous growth, evidence that they have both embraced and transcended their original roots rock mission.
We are happy to be able to give away two pairs of tickets to the upcoming Family release show.  This should be a great one, as supporting band Tauk's latest, Homonuculus, was featured on our notables list for one of the best releases in the first half of the year.  This is also an 18 and older event.
All you need to do to enter is fill out your email address in the form below and hit submit.  There will be a random drawing on Thursday afternoon, October 10th, and the winner will be notified soon after.  Once you confirm, we'll place your name at the door +1.
That's it. You can gain up to two additional entries by including your facebook page URL or twitter username, BUT you must either LIKE The Barn on Facebook or FOLLOW @thebarnpresents on Twitter for those additional entries to register.  Good luck!
[Form id="4"]