Phases Of The Moon Festival: Fact and Rumors
Update [3/19] Phase Two is announced.  See how I did on speculation and read some healthy skepticism HERE.
Update [6/9] Phase Three is announced.  More Info about the final headliner and the mysterious Lunar Landing Conspiracy.
Here's something I never would have thought last summer… the Midwest is getting another jamband camping megafest.  While Summer Camp owns the Memorial Day Weekend, and Electric Forest is establishing itself as a Independence Day destination, the inaugural Phases Of The Moon steps up to claim the title of late summer / early fall festival of choice.  The event will take place at the 3000 acre Kennekuk County Park in central Illinois (near Danville).
It's a bold move, considering the competition from both the aforementioned and the second year Lockn' fest, which takes place the weekend prior.  Unlike "Camp" and "Forest", Phases of The Moon takes a page from Lockn' by honing in on acts which it deems "100% Organic".  In fact, the initial lineup appears share some similarities, with Widespread Panic on both bills and many of last year's Lockn performers (Tedeschi Trucks, Warren Haynes, Chris Robinson) teed up for Phases of the Moon.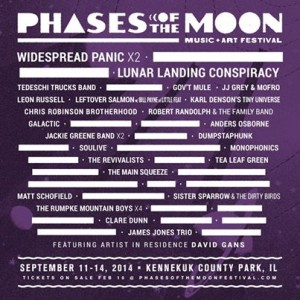 Impressive and no doubt jam-centric.  Leftover Salmon, Galactic, KTDU, Robert Randolph, Anders Osborne, Dumpstaphunk, Soulive will all definitely bring the heat in support of Panic. But, with four stages of music to fill and two "redacted" headliners, we expect a lot more good news in the future.
Of course, for various reasons, it has been customary to release lineups in phases.  At $230 for a four day pass (and that's the "early bird" pricing) that's a pretty steep commitment, so let's do a little bit of speculation on who might be added to the lineup (and why).  Here's how we handicap it.
String Cheese Incident - SCI has been connected to this festival in rumors since I'd first been hearing grumblings about an unnamed Illinois festival last fall.  With Electric Forest Festival essentially their Midwest baby, it makes sense that they hold off their announcement until Phase Two to protect their property.  Like Widespread Panic, they are an announced 2014 Lockn' act that makes logistic sense to do back-to-back festival weekends.  Oddly, if they do make it, they'd probably be the most electronic leaning act in the lineup.
Allman Brothers Band - Another 2014 Lockn' act.  Warren and Derek Trucks are already on the bill.  They, too, have two upcoming festivals that they are headlining (Wanee & Peach Fest).  Although neither are in the Midwest, it seems like they could hold off for a Phase Two announcement until those tickets start moving.  As 2014 is the last year for ABB, you'd think they'd want to go out with a bang and playing on a bill with these folks seem like a good way to do it.  A fine complement to Panic, too.
Trey Anastasio Band - Trey's been a bit of a festival whore these days.  The Phases Of The Moon official YouTube channel had favorited videos from just about all the Phase One artists on their YouTube channel prior to the 1/28 announcement.  This includes a Phish video (the NFL Films Phish/Seahawks vignette).  While Phish is clearly not expected to perform, you may be able to slot Trey into that third headliner space.  Or...
Ratdog - Bobby plans on hitting the road pretty hard this year.  Lockn' is already on the docket.  It's already foretold that Phil won't be making the trip, but seems like a GD member near the top of this card makes a ton of sense.
It seems pretty likely that two of the above four will take the remaining two headlining slots.
Umphrey's McGee - The question is: would UM fit into the slot between Tedeschi-Trucks and Gov't Mule on that lineup card?  If that's where they fall, then seems like a perfect fit.  The telltale Phases Of The Moon YouTube channel is subscribed to umvideo for whatever that is worth.
Wildcards:  Given how many jam scene mainstays are already on the card, I'm gonna throw out a few that seem to fit in the blanks spaces.   Railroad Earth, Greensky Bluegrass (best jamband on the planet IMO), Yonder Mountain String Band (POTM favorited one of their videos on their YouTube channel), Nicki Bluhm & The Gramblers (same).  Longshots: St. Vincent and Imagine Dragons are included in the YouTube clues as well.
Chicago / Midwest Talent - With four stages, I expect that some of our local bands will get the call to spice up the lineup.  Main Squeeze already gets a prime billing.  Cornmeal seems like a gimme.  Who else do you see on this bill?
Finally, there is the question of the Lunar Landing Conspiracy.  Sounds like some kind of supergroup / multimedia event -- when will the details be revealed?
Stay tuned here and we'll discuss and update as more details become availalble.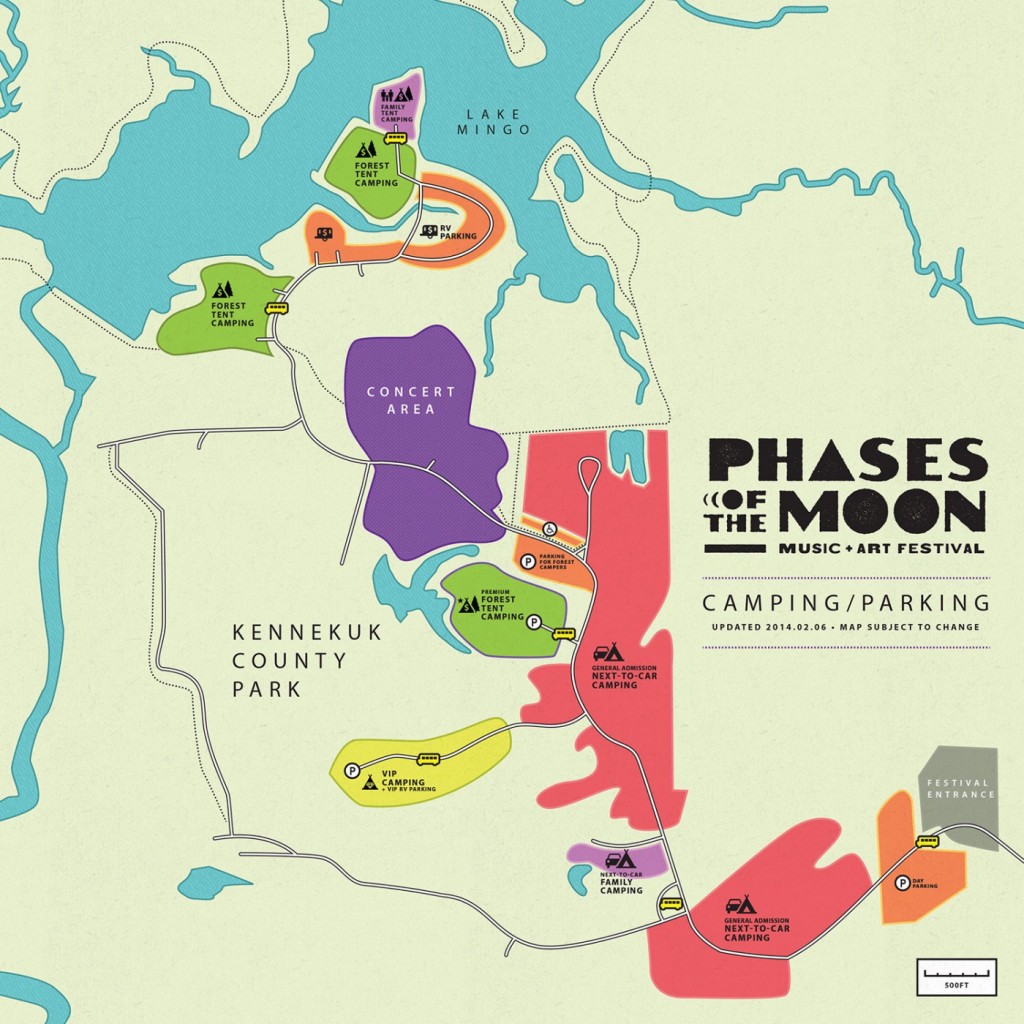 Phases Of The Moon Festival Campsite / Concert Area Map