PREVIEW | STS9 Three Night Run @ House Of Blues 2015
By: Matt Fricks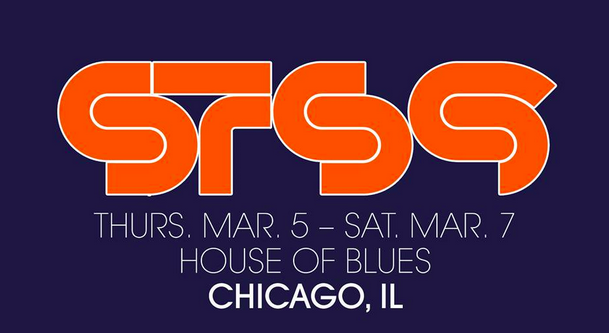 The last twelve months have been interesting for electronic-jam quintet, Sound Tribe Sector 9 (STS9). With the unexpected departure of bassist and widely-perceived Sector 9 front man, David Murphy (Murph), in January 2014, the group's loyal fan base was faced with the group's vague future following a tour cancellation.
Fortunately, the remaining four members took to social media to placate the die-hards and to announce the introduction of Alana Rocklin as their new bassist. When STS9 arrives at Chicago's House of Blues this March, it will be her first three-night run in the Windy City alongside Hunter Brown (guitar, midi), David Phipps (piano, keyboards), Jeffree Lerner (percussion, midi), and Zach Velmer (drums).
The addition of Rocklin is something for fans to be excited about. Since her arrival, the band has morphed into a more instrument-driven STS9. Certainly, the incorporation of electronic samples and laptops is a part of their unique sound. However, in recent years with Murph at the helm, the instrumentation that was once a driving force had fallen by the wayside in exchange for prominent sampling and triggered loops.
How bad had this become?  I overheard a conversation between longtime fans in 2012 suggesting a water balloons assualt on the band's computers should they choose to play "Atlas" or the thankfully-forgotten and laughable "Heavy." Fortunately, neither song was played that night.
In addition to composing new material that hearkens back the band's signature drum and bass sound, STS9 2.0 (as it is sometimes called) has slowly been putting the dominant computer samples on the backburner and started expanding on their already immense repertoire. In one short year, STS9 fans have seen a catalog explosion that would have been filed under "Fantasy Setlists" on the band's fan forum, The Lowdown, two years ago. The recent debuts of "Summit" and "Phoneme" and the revivals of "We'll Meet in Our Dreams," "You're It," and the full-band structured "Life's Sweet Breath" are just some of the notable examples.
STS9 has also experimented by incorporating occasional covers into their shows. In the latter half of 2014, the band delved into the repertoire's of jam-scene stalwarts Grateful Dead and Phish by covering "West L.A. Fadeaway" (11/21/14) and "First Tube" (10/18/14). The addition of Alana has also seen a more jam-oriented focus in terms of improvisation and segueing – something very reflective of both of those influences.
The band has also taken a much more courageous approach to improvisation. Notably, the often-played and once-dull "Rent" was as predictable of a song as one could ever imagine. However, it has been extended in many recent versions to the point where its plodding composed segments are often forgotten and jamming takes the focus. "Rent" used to be on my list of "Songs to Avoid at an STS9 Show." With these dramatic changes for the better, I would welcome a mid-set twenty-minute "Rent" in Chicago this March.
STS9's 2015 tour schedule is structured into sporadic three-night runs -- Chicago being the second tour stop after Aspen.  Chicago has often been treated with some fantastic gems during previous two-night stands and three-night runs.  This is a standalone three-night run in an understandably inconsistent tour schedule (I personally like this format).
Nothing is out of the question, considering the catalog growth and nearly six weeks off since their New Year's Run in Denver. But one thing seems certain -- an emphasis on setlist flow and further integration of their newest band member.  This run of upcoming Chicago shows is the most excited I've been for STS9 since I began seeing them in 2007. Here's to a fantastic weekend with Sector 9!