Ratdog To Play Chicago Theater For First Time Ever - March 7th, 2014
Only once in my memory have Grateful Dead alumnus played at the Chicago Theater: when Rhythmn Devils brought an all-star band including Phish's Mike Gordon and Steve Kimock in 2006 to the venerable landmark.  It looks like Kimock will make a return, this time playing lead guitar role for Bob Weir's Ratdog on Friday, March 7th, 2014.
With no Furthur in 2014, Steve hinted that he may be heading out with Ratdog.  And in the spring, we'll get a full dose of Ratdog in Chicago for the first time in many moons at the 3700 capacity venue in the heart of the city.  The band also features Furthur keyboardist Jeff Chimenti on keys, and longtime Weir collaborators Jay Lane, Robin Sylvester and Rob Wasserman (two bassists?).
The tour continues the following night at the wonderful and road-trip worthy Riverside Theater in Milwaukee.  Here are the complete spring tour dates.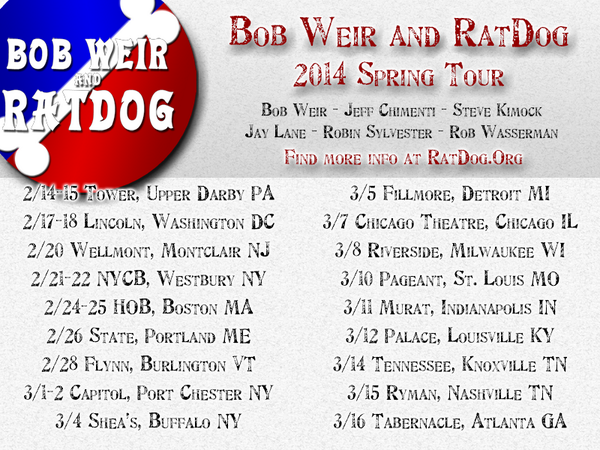 Tickets are available now via GDTS mail order (!) or fax (!!!).  Internet presale is Wednesday 11/20 (password is 'ROCK'... Milwaukee's is 'BOBBY') and public onsale is Friday 11/22 via ticketmaster, both at 10 am CST.  A pretty wide range of prices, too.
US $27.00 Ticket + US $14.02 Fees/Additional Taxes = US $41.02

US $65.00 Ticket + US $14.97 Fees/Additional Taxes = US $79.97
There is a 6 ticket limit per order.
UPDATE: (via our Facebook Page). Phil played the Chicago Theatre, too.  In 2005 with Chris Robinson, Barry Sless, Larry Cambpell, Mookie Siegel and John Molo. Digital Soundboard is available on archive.org