Recap / Video / Setlist | New Order @ Chicago Theatre 3/16/16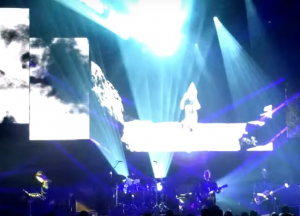 New Order performed at Chicago Theatre on Wednesday, touring in promotion of their latest record, Music Complete.
The band offered songs from all eras of their 35-year career, giving fans a welcome variety while also debuting newer material. This was apparent from the beginning of the set, as the band performed Music Complete's "Singularity" followed immediately by "Ceremony," a classic by any fan's standards.
New songs "Academic" and "Restless" were separated by "Crystal," from 2001's Get Ready, the fun, danceable pop track an excellent pairing with the group's new material.
New Order's stage setup relied on multiple video screen playing strange images and an overhead light show.
In general, the band sprinkled Music Complete tracks throughout a set otherwise dominated by classics, such as "Love Vigalantes," "Bizarre Love Triangle" and "Temptation," the latter closing the set out.
The highlight came in the encore, when the band performed Joy Division's "Atmosphere" and "Love Will Tear Us Apart," the former having been released two months prior to Ian Curtis's death, the event that led to New Order's existence.
The band then closed the set with the epic "Blue Monday," jokingly referring to it as "Green Thursday" in honor of St. Patrick's Day.
Watch videos of a few songs below to get a feel for the epic ambiance in the theater, and scroll further to read the 18-song setlist.
"Love Vigilantes:"
"Waiting For The Sirens' Call:"
"Atmosphere"
Setlist:
Singularity
Ceremony
Academic
Crystal
Restless
Love Vigilantes
Your Silent Face
Tutti Frutti
People On The High Line
Bizarre Love Triangle
Waiting For The Sirens' Call
Plastic
The Perfect Kiss
True Faith
Temptation
Encore:
Atmosphere (Joy Division)
Love Will Tear Us Apart (Joy Division)
Blue Monday