Review / Video | Mike Gordon @ The Vic 6/13/15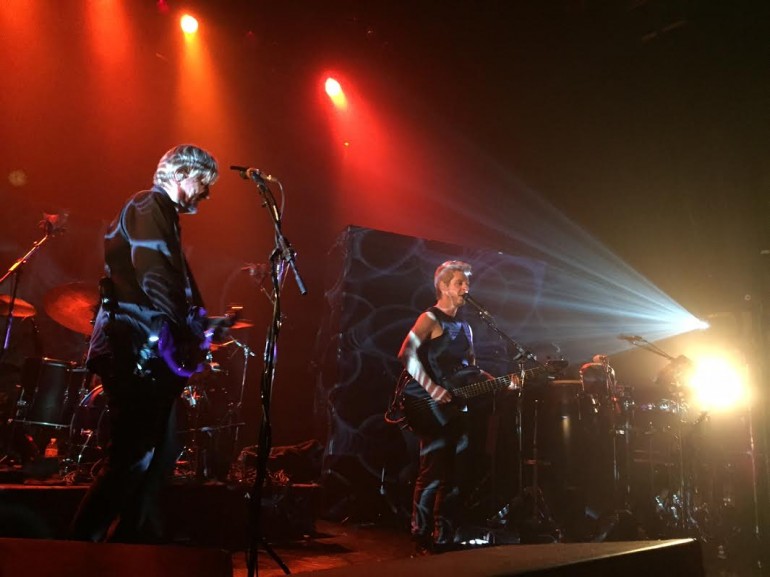 On a stormy June night with the Blackhawks battling in Game 5 of the Stanley Cup Finals, a few hundred Phish fans decided to put it all aside and converge on The Vic Theatre in Lakeview spend a long evening with Mike Gordon.  As I looked around the the assembled crowd on that Saturday night, I often returned to two questions, and I've used them here as the basis for my review of the evening.
1. Would I still be going to see this band if Mike Gordon wasn't in it?
This question is so wrapped up in hypotheticals and brain-twisting alternate, meta-reality, perhaps even Mike himself would appreciate it.
But the simple fact is: in the crazy corner of the world that we occupy, Mike Gordon is a superstar.  It's nice to check in on what he's up to every know and then.  His presence alone lends this event some cache.
But what if this same music was being made who wasn't the bass player from Phish.  Would it be on my radar?  Would I be motivated enough to go?
First, let's hope that any band who approached their shows with as much of an ear towards improvisation would be already making waves in our circle.  Nearly every song performed on Saturday had some space for a bit of jamming, and what was remarkable was how different sounding the jamming was -- not only from song-to-song, but also from much of the improvisation that is happening in the scene at large.  A frenetic acoustic guitar duel here, some thrashed out bass noises there.
That said, it's not always easily accessible.  The songs are weird, angular, off-kilter...you know Mike-like.  There are generally few fist-pumping grandiose rock peaks or sweet and catchy melodies.  And, yes, there's something appealing about that, but there's also something unsettling.  It's not buzz-worthy like a band with hooky or even deeply emotionally resonant songwriting can be.  If this weren't Mike's band, perhaps it'd be flying super low under the radar.
But there's no denying that Gordon is a singular force on bass, and if the non-Mike who'd be playing it this alternate reality band had similar style, panache, a distinctive sound, it could serve as a way to bust through.
Drummer John Morgan Kimock was something of a secret weapon, offering dazzling drum fills and keeping the ensemble moving during some of the more "out there" moments, including a stint out in front of the stage during the second set opener "Normal Phoebe".  Keyboardist Robert Walter, though working in a mode very separated from his boogaloo roots, hung with the band and added impact accordingly.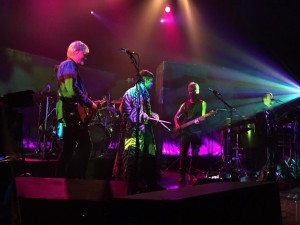 However, it may be the set and setting that is probably the biggest influence that the real Gordon brings to this show.  It's interesting that Mike decided to take this band on a large club and small theater tour rather than run it through the festival circuit this season.  This is a true headlining show, with whiz-bang electronics and innovative lights and set pieces.  It was a two setter, and while I'd be tempted to catch this non-Mike version of the band in an afternoon festival set, the way it's configured and presented just simply wouldn't be possible without Gordon at the helm
So it's hard to say.... Mike's personality, his vision come through loud and clear in nearly every aspect of this act -- including his humorous stage talk and attire (he emerged for the second set with guns ablazing).  And let's not forget the handful of Phish songs which rounded out the two sets, including a show opening "Sugar Shack" and crowd pleasing "Spock's Brain".
2. Should Phish be playing more Mike Gordon songs?
This one is easier to answer and maybe it speaks more to quality and diversity of Phish sets in the 3.0 era.
In my mind, there's no doubt the inclusion of more Mike songs can add a boost to the Phish repertoire.  Mike is constantly creating and clearly uses this band as an outlet and workshop -- I would imagine what he learns from this experience goes on to shape his playing on the big stage.  What better way to respect that than to select a few of the most intriguing options add continue to expand with different personnel?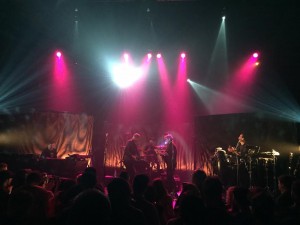 I'm not advocating seismic shift away from Phish classics or much of the Anastasio/Marshall material, but I do think that at the very least, some of the songs that Mike explores in this context can provide some needed variety.  In 2014, we thought we might see an injection with the Fuego songs, and indeed those tunes seem to have infiltrated most shows, though most have them have proved to be fairly limp.  Perhaps what we need is a something a little more off-kilter?
Plopping a song like "Long Black Line" in the middle of a first set, could provide a nice counter-point to straight ahead rockers or ballads that currently dominate.  At the best, some of these songs could be taken for a spin in the second set.  Mix one of these odd-ball melodies with a typically Phish, deconstructed rock jam with ferocious peak, and you can have the recipe for something truly special.
And while we're at it, how about handing Mike a new cover or two?  While this encore version of "Black Tambourine" didn't reach the heights of the one performed at last year's Park West visit, it was a tough, cool choice, executed and arranged with punch.
Video courtesy of madpicken
Set 1: Sugar Shack, Jones, How Many People Are You?, Peel, Long Black Line, Say Something >Sleep to Dream, Different World

Set 2: Normal Phoebe, Spock's Brain, Jumping, The Last Step, 555, Another Door, Yarmouth Road >Looking for Clues, Voices

Encore: Black Tambourine

setlist via phish.net
Additional Photos: Jeff Trinco