Rock 4 Autism Offers Throwback @ Wire For 2016 Event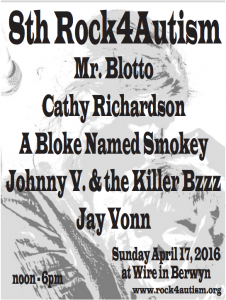 This event has been going strong eight years running now, but the 2016 version has a vision that goes back a bit further than that.
Gia Eppolito and the good folks at at Rock4Autism, just as they do each April (Autism Awareness Month), have set up a music-related benefit at Berwyn's Wire.  But this time, it has a distinct 1990's flavor...
Truly, Mr. Blotto was a Chicago staple throughout the 90s -- and they have long been associated with Rock4Autism events.  90's keyboard-man Dave "B3" Allen will be Blotto's special guest on this night.
And, if the 90's Blotto Boys had a female counterpoint, it was Cathy Richardson -- who brought her big voice and magnetic stage presence to many of the same stages in the years before she traveled the world with Jefferson Starship.  These days she's been around town doing solo gigs and with the collective, Nelson Street Revival.
Cathy joins this year's event as artist-at-large.  It will take place on Sunday, April 17th 2016.
Face painting, live art, and a raffle will complement the musical activities.
Advance tickets are available via the event's website.  There is a $25 donation.  As a lover of music and the uncle of an extraordinary nephew with autism, I urge you to please consider supporting this extremely worthy cause.
Here's the complete lineup and schedule of events.
12:00 -1:00 Jay Vonn
1:20-2:20 Johnny V & the Killer Bzzz
2:40-3:40 Smokey & Friends
4:00-6:00 Mr. Blotto
Proceeds from this year's benefit go towards a School District Transition program to be used to create sensory rooms / spaces for individuals with disabilities.