Mr. Blotto Moves Locations Once Again For 14th Blottopia Festival - July 26th & 27th 2013 in Yorkville, IL
After hosting for over a decade at Vasa Park in Elgin, Mr. Blotto shocked fans by moving their 2012 festival to the Illinois-Iowas border.  The Iron Horse Campground in Sabula, IA was the scene for the band's most recent full album cover encore, The Allman Brothers Band's Eat A Peach, as well as other cover and mash-up fun.
This year, they're switching things up again, but bringing the party closer to home.  The 14th edition of Blottopia will take place back on the Fox River, 7/26 & 7/27, 2013 at Hideaway Lakes Campground in Yorkville, IL.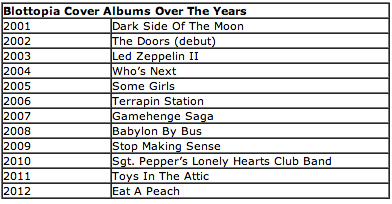 As usual, the festival admission will include on-site camping and two stages of music, with a lineup of supporting bands on Saturday including Family Groove Company, Dog 1, Dr. Kevorkian & The Volunteers, and Paradise Waits.  We expect another set length "encore" cover album. The only trick will be handicapping this year's front runner.  With big albums by huge classic rockers (Beatles, Stones, Who, Floyd & Zeppelin), cult favorites (Marley, Talking Heads) and jammers (The Dead, Phish, Allmans) all off the table, this year could be a shocker.
They could stick with the classics and tackle Clapton (Derek & The Dominoes' Layla, Cream's Disraeli Gears), Credence, Hendrix or Traffic.  The Aerosmith choice in 2011 leaves the door open for hard rockers like Van Halen (which you know Mark could pull off) or AC/DC (Paul's licking his chops).  But perhaps we're ignoring the obvious: is a Bob Dylan album in the works?  There are more than enough candidates.  Or maybe this is the year a Widespread Panic album gets the treatment --  with Tall Boy being such a longtime staple in Blotto's repertoire, stranger things have happened.
In any case, Hideaway Lakes has become a fast favorite for regional music festivals (it also hosts this year's edition of Whippersnap Festival).  The facilities feature food and merchandise booths, hot  showers, and permanent restroom facilities with running water.
The campgrounds will open at noon on Friday for fans with advance tickets only and 4:00pm for gate purchasers.  Tickets are on sale now ($57-85), but sales end a week before the festival.