Setlist / Recap | The New Pornographers @ The Riv 11/14/14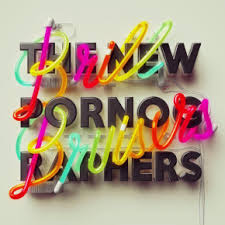 New Pornographers have remained a mainstay in the indie-rock scene since their first release in 2000. Their sixth album,
Brill Bruisers
, was released this year and widely considered amongst their best, most inventive records in years.
Multiple New Pornographers' members have gone on to enjoy huge success outside of the band, including Neko Case's solo career and Dan Bejar's project, Destroyer, making the band a collective of sorts, every member skilled in his or her own right and the collaborations reflecting this.
The band played a massive, 26-song, career-spanning set at The Riviera on Friday, including older songs like the title track of 2000's Mass Romantic, "The Laws Have Changed" from 2003's Electric Version, "The Bleeding Heart Show" from 2005's highly revered Twin Cinema and Bejar's "Myriad Harbour" from 2007's Challengers.
All of this is, of course, piled on top of nine tracks from the new record.
Band leader A.C. Newman called Brill Bruisers a "celebration," and the tour can clearly be described as the same.
Check out the setlist below:
1. Brill Bruisers
2. Myriad Harbour
3. Use It
4. Dancehall Domine
5. War On The East Coast
6. Crash Years
7. All The Old Showstoppers
8. Jackie, Dressed In Cobras
9. Another Drug Deal Of The Heart
10. The Laws Have Changed
11. You Tell Me Where
12. Testament To Youth In Verse
13. Marching Orders
14. Adventures In Solitude
15. Jackie
16. Sweet Talk, Sweet Talk
17. Backstairs
18. Silver Jenny Dollar
19. Champions Of Red Wine
20. Born With A Sound
21. Mass Romantic
Encore:
22. Challengers
23. Moves
24. The Bleeding Heart Show
Encore 2:
25. The Spirit Of Giving
26. Sing Me Spanish Techno