Setlist / Recap: Tributosaurus Becomes Bob Dylan @ Fitzgeralds 1/17/2014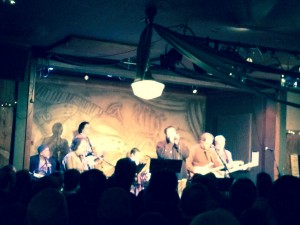 Why are there not more Bob Dylan cover bands?
Isn't it universally acknowledged that he has the deepest catalog of songs of any beloved artist? And let's face it, the bulk of his repertoire is written in a way that is just begging to be interpreted.  Given that recent Dylan performances have left his rabid fan base a bit underwhelmed, it seems there should be a natural opening.
That brings us to Tributosaurus....  As most Chicagoans know, they are not a Dylan cover band.  However, they are somewhat of an institution:  a be-anything, try-anything, cover-band-0f-all-trades -- willing and able to transform to the whim of whatever musical notion suits them at one of their monthly gigs.
On Friday, January 17th at Fitzgerald's in Berwyn, they came knocking, as they typically do, with a few ringers to supplement the core band.  This time in the form of Terry White, who doesn't shy away from a Dylan cover amongst the original material in his own band, the neighborhood favorite Cannonball, and Pat Brennan, a local troubadour in his own right.  With capable singers / frontmen already part of the equation in the main band, the presence of these billed guests kicked up expectations a little more.
The show kicked off with an acoustic set that showcased White and Brennan on lead for a handful of songs, while trading the spotlight with Tributoraus' Matt Spiegel, Chris Neville and Curt Morrison.  This game of pass the mic helped shape the evening's narrative: that everybody wants to be Bob Dylan, everybody can be Bob Dylan, and in a way that speaks to the universal messages contained in his songs, everybody is a little  bit of Bob Dylan.
And so it was.  In an acoustic set that focussed primarily on the Bard's 60s output, there was ample time for storytelling by each of the Dylans, proving how much this material has been internalized and personalized for everybody.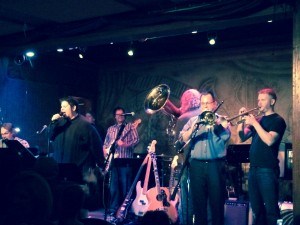 But it was the reach and adaptability of Tributosaurus's format that made this ensemble shine.  When the band switched gears for the electric set, with Brennan manning the organ and Tributosaurus' Chris Neville on electric piano, the interplay between these two instruments was the key to nailing the sound of Bob's most dynamic tunes -- they got it just right.  When a three piece horn section made its to the stage, the crowd new immediately what was coming, and the one-and-done surprise was a classic Tributo-move.  The ensuing take on "Rainy Day Women #12 & 35" was so true to the original it made the hairs on the back of my neck stand up.
With such a wide open format and "one night only" type of engagement, you might expect a focus on the greatest hits (as much as a thing exists in Dylan land), and indeed the tried-and-true warhorses ("Like A Rolling Stone", "Lay Lady Lay", "Times They Are-A-Changing") were all well represented.  But as I whispered to a friend midway through the acoustic set -- what I really wanted to see was some deep cuts and perhaps a tune or two from Dylan's late 90's career renaissance.
It wasn't long before I got what I came for.  The biting, evangelical "Gotta Serve Somebody" put me on attention, but it was "Jokerman"from Infidels, his return to secular music, that drove the point home.  There's gold to be found everywhere in this catalog -- and true music lovers know where to mine for it (see also, the organ driven "Tough Mama").
"Tangled Up In Blue" opened up the third set, scratching the Blood On The Tracks itch.  But it was a moving "Standing In The Doorway" from Time Out Of Mind, led by Brennan's stark, minimalist vocals that completed my punchlist.  Moving, powerful and able to go toe-to-toe with the absolute classics from the sixties and seventies -- a totally satisfying way to complete the circuit.
Judging from he crowd's response, perhaps there should be more Dylan cover bands.  I caught a sign for something called The Zimmermen (featuring White, Brennan and Chicago legend Robbie Fulks) at Fitzgeralds on March 2nd.
And for something completely different: Tributosaurus will become Pariament-Funkadelic for a pair of dates this week, (2/5 at Martyrs and 2/7 at Berwyn's Wire).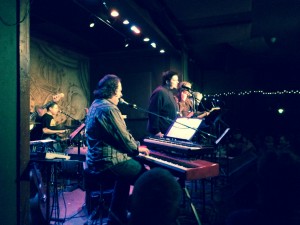 Setlist
It's All Over Now, Baby Blue
Simple Twist Of Fate
Knockin' On Heaven's Door
House Of The Rising Sun
Girl From The North Country
A Hard Rain Is Gonna Fall
Don't Think Twice, It's Alright
Like A Rolling Stone
Just Like A Woman
Gotta Serve Somebody
Jokerman
Tough Mama
Subterranean Homesick Blues
Rainy Day Women #12 & 35
Tangled Up In Blue
Lay Lady Lay
Standing In The Doorway
Times They Are A Changing
Mr. Tambourine Man
Visions Of Johanna
Highway 61 Revisited
Forever Young
Maggie's Farm