Setlist / Recap / Full Show Stream & Download | Yusuf Islam @ Chicago Theater 12/9/14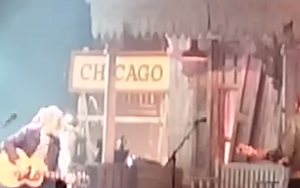 Though remembered primarily for his tenure as Cat Stevens, Yusuf Islam has continued recording music since dropping the name, creating a string of often-political records since the early 90s that still spotlight the songwriter's skill and craft. The singer is currently on his first tour in 35 years, with Chicago being his fourth stop.
Yusuf's performance at Chicago Theatre encompassed the entirety of his influential career, combining a large number of Cat Stevens songs with newer material and covers throughout a massive, two-set concert that featured surprise-guests Bonnie 'Prince' Billy and Matthew Sweeney.
Yusuf performed with a five-piece backing band offering guitar, bass, drums, keyboards and more, the singer performing on acoustic guitar and piano throughout. The stage setup consisted of an old, western station behind the band and a sign labeled "Chicago," playing into the "Peace Train…Late Again" tour name.
Opening with classic Teaser And The Firecat track "The Wind," Yusuf continued to cover both well known and lesser-known tracks from all of Cat Stevens' discography.
Though Yusuf covered classics such as "Wild World" and "Moonshadow," he managed to sneak a "Foreigner Suite" snippet into newer track "Heaven/Where True Love Goes," surprisingly acknowledging his critically panned Foreigner.
An obvious set highlight came in the form of two covers, Procol Harum's "The Devil Came From Kansas" and Lead Belly's "Take This Hammer," both featuring Bonnie 'Prince' Billy on vocals. Bonnie 'Prince' Billy and Matthew Sweeney, who contributed guitar for the show, have previously recorded as Superwolf and both contributed to Yusuf's latest record, Tell 'Em I'm Gone.
Other covers throughout the night included Curtis Mayfield's "People Get Ready," Jimmy Reed's "Big Boss Man," Edgar Winter's "Dying To Live," "You Are My Sunshine" and Sam Cooke's "Another Saturday Night."
Check out the lengthy 29-song setlist and some (regrettably, awful) videos below.
The Stream
[box type="download"]Download Entire Show (mp3 .zip)[/box]
Set 1:
1. The Wind
2. Here Comes My Baby
3. The First Cut Is The Deepest
4. Thinking 'Bout You
5. Sitting
6. Maybe You're Right
7. Where Do The Children Play?
8. I Love My Dog
9. I Was Raised In Babylon
10. (Remember The Days Of The) Old Schoolyard
11. People Get Ready (Curtis Mayfield cover)
12. If You Want To Sing Out, Sing Out
Set 2:
13. Big Boss Man (Jimmy Reed cover)
14. Trouble
15. Oh Very young
16. Dying To Live (Edgar Winter cover)
17. Moonshadow
18. You Are My Sunshine (Jimmie Davis cover)
19. Heaven/Where True Love Goes
20. Wild World
21. The Devil Came From Kansas (Procol Harum cover featuring Bonnie 'Prince' Billy)
22. Take This Hammer (Lead Belly cover featuring Bonnie 'Prince' Billy)
23. Another Saturday Night (Sam Cooke cover)
24. Peace Train
25. Father And Son
Encore:
26. Editing Floor Blues
27. Miles From Nowhere
28. Morning Has Broken
29. All Kinds Of Roses