Side By Side: The Blues Brothers Mall Chase, Real and Lego Versions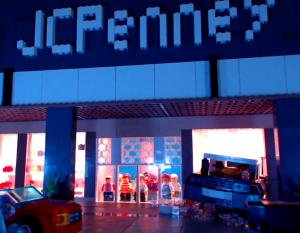 The Blues Brothers works for me on so many levels.  It's one of the quintessential Chicago films.  Quotable as hell ("Orange Whip?  Orange Whip?  Three Orange Whips!").  It boasts a damn near perfect soundtrack and epic big-screen action sequences.
The folks at Bricktease seem to agree on that final point and pay homage in an enthusiastic way.  Since lately it seems like I've posted as much about Lego around here as I have about music, so it's only fair that I showcase their amazing recreation of this iconic scene.
The original, of course, was filmed at the Dixie Square Mall in suburban Harvey, which closed in 1978 (the scene was filmed in the summer of 1979) and stood vacant until just last year when it was demolished.  It also features Otis Redding's classic soul jam "Can't Turn You Loose".
Accurate, huh? Here's proof, with the original and the recreation poised side-by-side.

Bricktease has even offered some insight into the making of this masterpiece. Bravo to all involved.