Stream, Download & Photos: Pink Floyd @ Rosemont Horizon 9/26/87
Our first offering of Pink Floyd Week, is a taste of the Roger Waters-less Floyd's stop in Rosemont on the Momentary Lapse of Reason Tour back in 1987.  The recording is a bit noisy at times, but overall offers a nice glimpse of how the band integrated classics with some newer material during this tour, as per the classic rock rulebook circa the late '80s.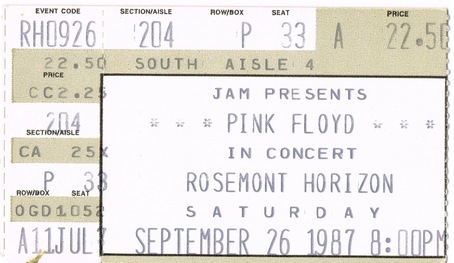 [box type="download"]Download entire show mp3 .zip[/box]
[box]
Setlist
Pink Floyd
9-26-1987
Rosemont Horizon, Rosemont, IL
Shine On You Crazy Diamond, Signs Of Life, Learning To Fly, Yet Another Movie, A New Machine – part 1, Terminal Frost, A New Machine – part 2, Sorrow, Dogs Of War, On The Turning Away, One Of These Days, Time, On The Run,Wish You Were Here,Welcome To The Machine,Us And Them,Money, Another Brick In The Wall – part 2, Comfortably Numb, One Slip, Run Like Hell
[/box]
Some selected photos from the awesome collection by RonToon, Glenn Povey & Chicago Artie at harvested.org.  It's one of the best visual documents of a show by fans in the pre-digital camera age that I've ever seen.
[gallery link="file" columns="2"]