Summer Camp Music Festival - Day One Summary
By Ryan Mannix | Photo: carmelocorn Instagram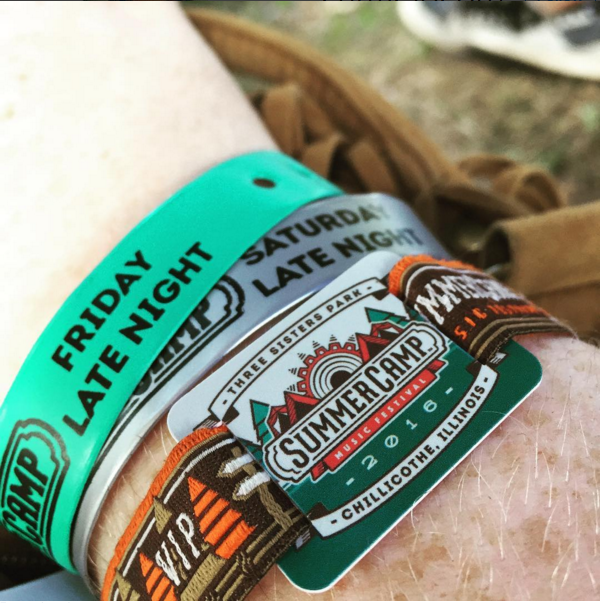 A Thursday night tradition, 
Family Groove Company
is somehow the first band I see at Summer Camp every year. It's fitting that the Illinois based outfit gets the weekend started for the quintessential Illinois festival, having played the festival since its earliest days as a small jam-band gathering.
The group brought the funk as the always do, showcasing each member's soloing abilities throughout. Guitarist Adam Lewis' jammy licks complimented Jordan Wilkow's jazz inflected Rhodes lines... but they all rely on bassis, Janis Wallin's earth shaking grooves. The third coast horns were a very welcome special guest for the set, which ended with a funkified version of Bob Dylan's, "Subterranean Homesick Blues".
Another Illinois Summer Camp special, Van Ghost brought folky acoustic music to the Campfire stage later in the afternoon. Performing first as a duo, VG mastermind Michael Harrison Berg welcomed sometime members Jennifer Hartswick and Nick Cassarino (Nth Power) for harmonies and some melodic electric guitar backing. Tight songwriting and newer material was on the bill.
New York State jammers Aqueous, played to a monster crowd at the Camping Stage, evidence of the growing word about these guys. Their brand of high energy, heavy rock got the audience moving. The group opened with a long impressive piece of improvisation featuring the talented Mike Gantzer who pulled out some guitar acrobatics in the Herring mold. The groove comes fast and hard as they rely on some hip hop inspired feels and a riff rock approach to drive their jammy, bombastic compositions.
And of course, there was Sabbath's "War Pigs" with Vinnie from moe..
Greensky Bluegrass is a band I've seen plenty of times, but last night was the night it all clicked. With the combination of an amped up Thursday crowd, spectacular light show, and loose stage presence, the show easily became my favorite of the night.
Paul Hoffman's powerful songwriting won me over with "If Sorrows Swim". I found dobroist Anders Beck to be the featured talent, taking an impressive the lead during the band's  most intense peaks.
But really, for acoustic instruments, I couldn't believe how the entire band built such high energy, surpassing even some rock bands in sheer power. The dynamics were also pronounced, dropping things way low for a tender ballad, or even get a little spacey (also something I didn't expect from a "bluegrass band").
Like many who have come before them, Greensky now in the driver's seat for re-writing the book on what "bluegrass" can me. By the time thhe band arrived at my personal highlight, a cover of Newgrass Revival's "Can't Stop Now", I felt like I was a part of the conversation between the band's five instruments, constantly evolving with the defyingly simple progression.
Five became six when Umphrey's McGee keyboardist Joel Cummins sat in for a nearly 15 minute jam on "All Four" that was both patient and beautiful. It surprisingly never felt cluttered with six guys constantly chucking away, instead melding each of the strings' timbres  together in a textured weave.
The weather was great all day, let's hope the rain holds off today as we get the first sets from moe. And Umphreys. Stay tuned!