Sweet Home Chicago: President Obama Sings With Mick, Buddy, B.B., Derek, Susan, Warren & More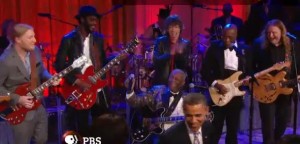 It was blues night last night at the White House.  I guess when you're commander-in-chief, not only do you get to assemble an All Star team  for the event, you also get to get "talked into" singing a verse.  Here, the President makes a grand exit by contributing some vocals to "Sweet Home Chicago" (even displays a little showmanship, passing the mic to B.B. King for a few words) before heading towards the door.
The band was toplined by Mick Jagger, Buddy Guy, B.B. King and Jeff Beck.  The Allmans Brothers Band Family was represented by Derek Trucks (and wife Susan Tedeschi) and Warren Haynes.  Shemekia Copeland, Trombone Shorty, Keb' Mo' and Gary Clark Jr also performed.
"The blues reminds us that we've been through tougher times before. That's why I'm proud to have these artists here not just as a fan but also as the president because their music teaches us that when we find ourselves at a crossroads, we don't shy away from our problems. We own them. We face up to them. We deal with them. We sing about them. We turn them into art. And even as we face the challenges of today we imagine a brighter tomorrow." - President Barack Obama