The Barn's Response to The Hardest Working Bands Of 2010
Practice make perfect,  this much we know.  I have always been a huge advocate of bands that spend quality rehearsal time and many many shows working out their live act on the road.
This infographic from Songkick made the rounds of InfoGraphic freaks earlier this year under the banner of "Hardest Working Bands of 2010".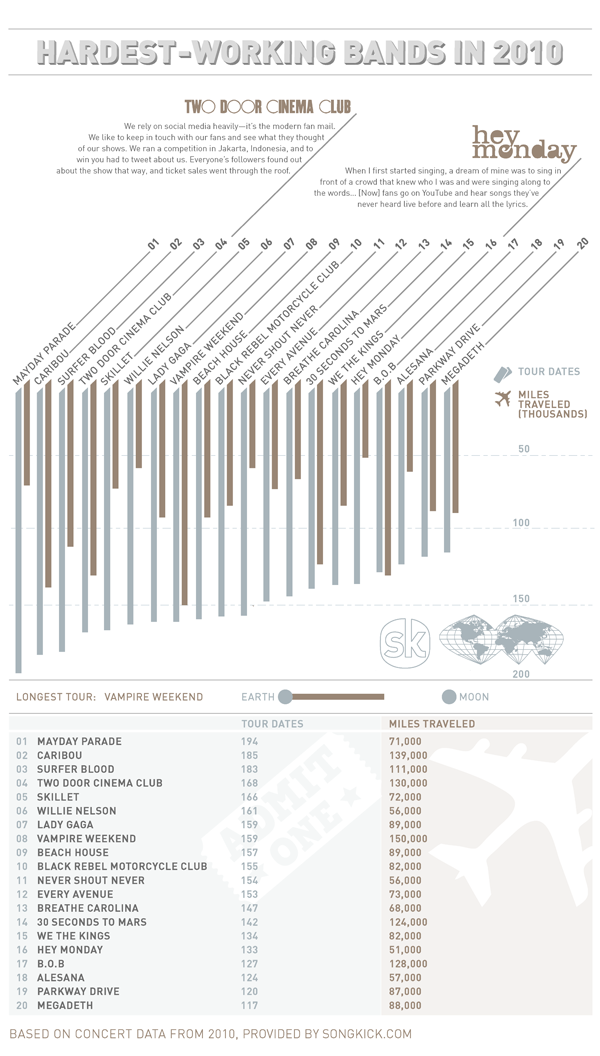 There are only a handful of bands on that list that even on my radar, but it got me thinking:
how do these years compare to the busiest years of some of my favorite bands?
how long will these bands really sustain this level of output?
are you really a "hard working" band if you play the same 20-30 songs at 100's of same sounding, similarly executed sets?
I think a truer barometer of  musician's industriousness is the amount of variety in performances, and how long one can sustain that level of output.  To that end, I've gathered some facts about some of the more well documented careers of my favorite bands.   I've looked at the hardest road years of four different bands and uncovered some interesting facts about the variety of performances and their overall longevity.  The wild card:  the career of Mr. Warren Haynes.  Just taking a sampling of one of his most prolific years (2001), where he played a significant number of shows in three separate bands, reveals some amazing things about an incredible musician.
Click the image for larger, more readable view
Also remember that Jerry Garcia (not to mention Bob Weir), spent many additional dates on the road with solo bands with completely distinct repertoires and approaches.