The Wood Brothers Find Their Groove: Oliver Wood On The Band's Evolving Sound
The Wood Brothers Find Their Groove: Oliver Wood On The Band's Evolving Sound
By Alex Wood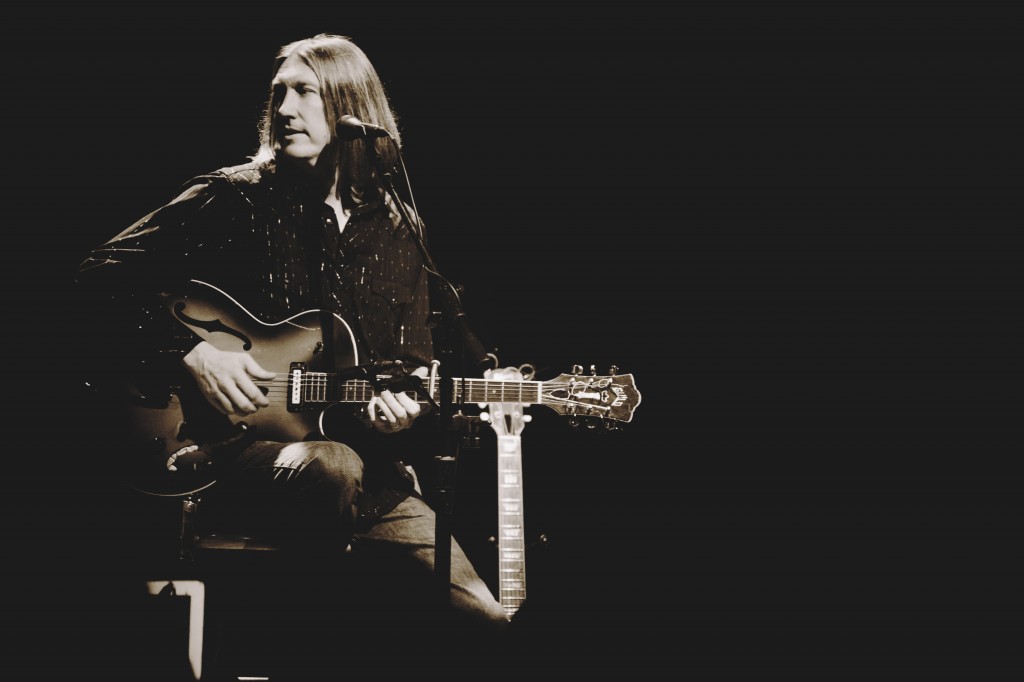 In a lot of ways, The Wood Brothers became a true band with 2013's The Muse, the most collaborative effort of their ten-year career. With Chris and Oliver Wood both moving to Nashville and the addition of Jano Ri, the dynamic of writing and recording changed dramatically, producing the band's most consistent record to date.
With the addition of percussionist, pianist and singer Jano Rix, Oliver feels that The Wood Brothers "were making a 'band' record for the first time."
"It just felt more like we were in a band that was collaborating together and we didn't really need much in the way of outside help. I mean, we had some guests but the core of the band was the core of the record," Oliver said.
"It's definitely evolved into a very collaborative thing," Oliver said of the songwriting. "I think Chris and I are now collaborating on every song. And John O, for that matter. We're getting him in on it, too."
Referring to the mutual songwriting as "putting all our chemistry and making a stew with each person's contributions," Oliver was confident the process was leading to the band's best material. "It's really balanced and feels better this way. I think we get something better."
Recorded at Southern Grounds Studios, founded by Southern Ground label-mates Zac Brown Band for the label's roster, The Muse found the brothers recording in Nashville, their new hometown, in what Oliver considered an ideal setting.
"Recording studios are often either really bootleg and funky and kind of cool in that way, and other times the nicer studios with the nicer gear are often very sterile and clean and almost too over-thought. The cool thing about Southern Ground is it has this nice balance between being this earthy, old studio with a lot of tradition but also its been updated and has all the best gear and just feels good," Oliver said.
The guitarist attributes the success of the record's sound to the studio, not only because of the high, vaulted ceilings and plethora of amplifiers and instruments, but its ability to capture the sound the band imagined.
"We absolutely pictured the sound to… feature that room in a way and for us to play live in that room and capture that sound," Oliver said. "We were very excited to use this studio."
Along with the band's increasingly collaborative nature comes productivity, with Oliver and Chris both having recently moved to Nashville, leading to more writing.
"I moved from Atlanta and he moved from Woodstock, New York. So for us it's the first time since we've started this project that we can sit down in each other's living rooms any time we want and write music. So we're writing like crazy right now and just getting ready to go into the studio for the next record," Oliver said. "It's so fun because we've often had to do this kind of thing long distance or while we're on tour or schedule it in and it involved plane tickets. So this is now awesome, because we can just call each other up and say, 'hey, why don't you just come over tomorrow morning and we'll drink some coffee and work on that song we've been working on?'"
Though Oliver claimed the musical direction of the new record to be "top secret," he did hint at the possibility of some dramatic changes.
"I think we definitely have a goal of making a very different record than we just did with The Muse, which I think is just you, as an artist of any kind, I think you sort of react to your previous work and, you know, we figure all this kind of shows one kind of ourselves, but let's dig a little deeper and get out of our box… Maybe we don't worry so much about playing live, and I don't know this, I'm sort of just thinking out loud, but maybe we'll make an album that involves a little more thought while you're in the studio instead of just going in there and playing. Maybe we can get creative and try some different things," Oliver said. "We try to keep evolving."
One thing is for certain: the collaboration of band members will only be strengthened on the new record, especially the already vital contributions of percussionist and pianist Jano Rix.
"We really want to utilize Jano more because he's just an amazing piano player, organ player, anything with keyboards. He's just awesome, and we have yet to really use him to his full potential so I know we're going to have some good piano playing on this record. We got a taste of it on The Muse but we'd like to do some more stuff like that," Oliver said.
New sound or not, the band's influences remain the same, which stems from the brothers' childhood.
"We grew up on the same stuff. My dad played guitar and sang around the house a lot when we were kids so we got to hear him and he was sort of playing folk songs. So we had a lot of exposure to that and his entire record collection, which was folk stuff and rock 'n roll stuff and blues, traditional blues and electric blues," Oliver said, citing Ray Charles, Levon Helm, Little Feat and BB King as his largest influences.
These influences directly contribute to the songwriter's style, which has gained the band a diverse audience, according to Oliver.
"It feels like we've got this cross-generational audience," he said. "We have people come up and say, 'hey, my parents turned me on to your music… and then we have the opposite where the parents come up, people in their 50s or whatever, and say, 'hey my college-aged kids turned me on to you guys.' I like the idea that we can appeal to different generations. I really like that people bring their kids to our shows, and I like that college kids dig it and dance and jam around and older folks will listen and sit. That's really satisfying."
This, of course, goes back to the band's sound.
"I guess we definitely draw a lot of inspiration from older, roots-y kind of music that maybe older folks, it's familiar to them, yet I think there's an appreciation right now among younger folks for traditional styles. Then what we try to do is kind of give our own twist to the traditions and try to mix it up and make it a little weird sometimes," Oliver said. "I think people just appreciate stuff that's original and has soul, sort of moves them somehow."
The Wood Brothers play Thalia Hall on Saturday, October 4th as a part of their fall tour.  More information at http://www.thewoodbros.com