Setlist / Stream / Download / Video: Travellin McCourys featuring Bill Nershi wsg Greg Cahill, Wavy Dave & Chris Gangi @ City Winery 11/17/13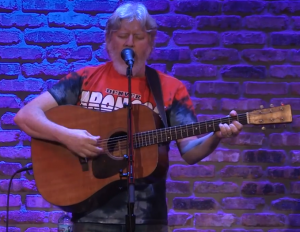 While Chicagoans were still glowing from a wild Bears victory last Sunday, Bill Nershi took the stage in a Denver Broncos (!) tie-dye.  You can't win them all I guess, but if you're a fan of banjo, you might consider putting this show in the victory column.
Billed as a Travelin' McCourys show featuring Bill Nershi, some of Chicago's finest pickers showed up as special guests for an early and late show at City Winery.  Greg Cahill, a founding father of Chicagoland bluegrass staple Special Consensus, and Wavy Dave Burlingame, a torch bearer of the new school, faced off their banjos with Rob McCoury during the fiery conclusion.  Wavy's Cornmeal bandmate, and erstwhile partner in Chatsworth & Dupree, Chris Gangi also took over bass duties, before trying his hand at a bit of mandolin.
I'm so pleased that much media was captured from this evening.  You'll find full show streams and downloads via archive.org from both shows below.  Additionally, YouTuber MyTallTripod was on hand and captured some incredible video, synched with the soundboard recording.  Go ahead and watch this one on your HDTV, highly recommended viewing.
Ronnie McCoury - mandolin
Rob McCoury - banjo
Jason Carter - fiddle
Alan Bartram - bass

with

Bill Nershi - guitar

[1] with Greg Cahill (banjo) from Special Consensus (http://specialc.com/)

From Cornmeal (http://www.cornmealinthekitchen.com/):

[2] with Wavy Davy (banjo)
[3] with Chris Gangi (bass)
[4] with Chris Gangi (mandolin)

Early Show

< mando tune >, Deeper Shade of Blue, Lily Hoskins ,Think of What You've Done ,When It Comes to You, < banjo tune >, Some Old Day *, he Squirrel Hunt, No One Will Ever Know, Don't It Make You Wanna Dance, On and On, I'm Going Back to Old Kentucky, Sawin' on the Strings, < banjo tune >, Smokey Mountain Memories, The Old Boy's Still in the Game, < fiddle tune >, Darlin' Cory [1,2,3], Love Please Come Home [1,2,3]], Shenandoah Breakdown [1,2,4], Rollin' in My Sweet Baby's Arms [1,2,4]

ENCORE
Six Days on the Road [1,2,4]

Late Show

< instrumental >, Hard on My Heart, Lonesome, Ornery, and Mean, < fiddle tune >, Lonesome Wind Blues, Lonesome Feeling, Limehouse Blues, Evangelina, Border Ride, Age, Dark Hollow, Messed Up Just Right, < instrumental >, Why Did You Wander, Vamp in the Middle, Johnny Cash, High on a Mountain [1,2,3], < instrumental > [1,2,3], How Mountain Girls Can Love [1,2,4], < instrumental > [1,2,4]

ENCORE
Rollin' in My Sweet Baby's Arms [1,2,4]
Early Show Video


Late Show Video